Top 5 Breakfasts in Cambodia
Traveling is a combination of foods along with seeing different places, and getting ready to begin the day with a good breakfast is foremost that all of us never avoid to. Cambodian breakfast is reasonably priced, you might not spend over $2.00 for it. So get ready to sink your teeth and make a freshly order from our selective dishes that just for you.
Here's the top five breakfast that will lead to taking away your morning hunger immediately.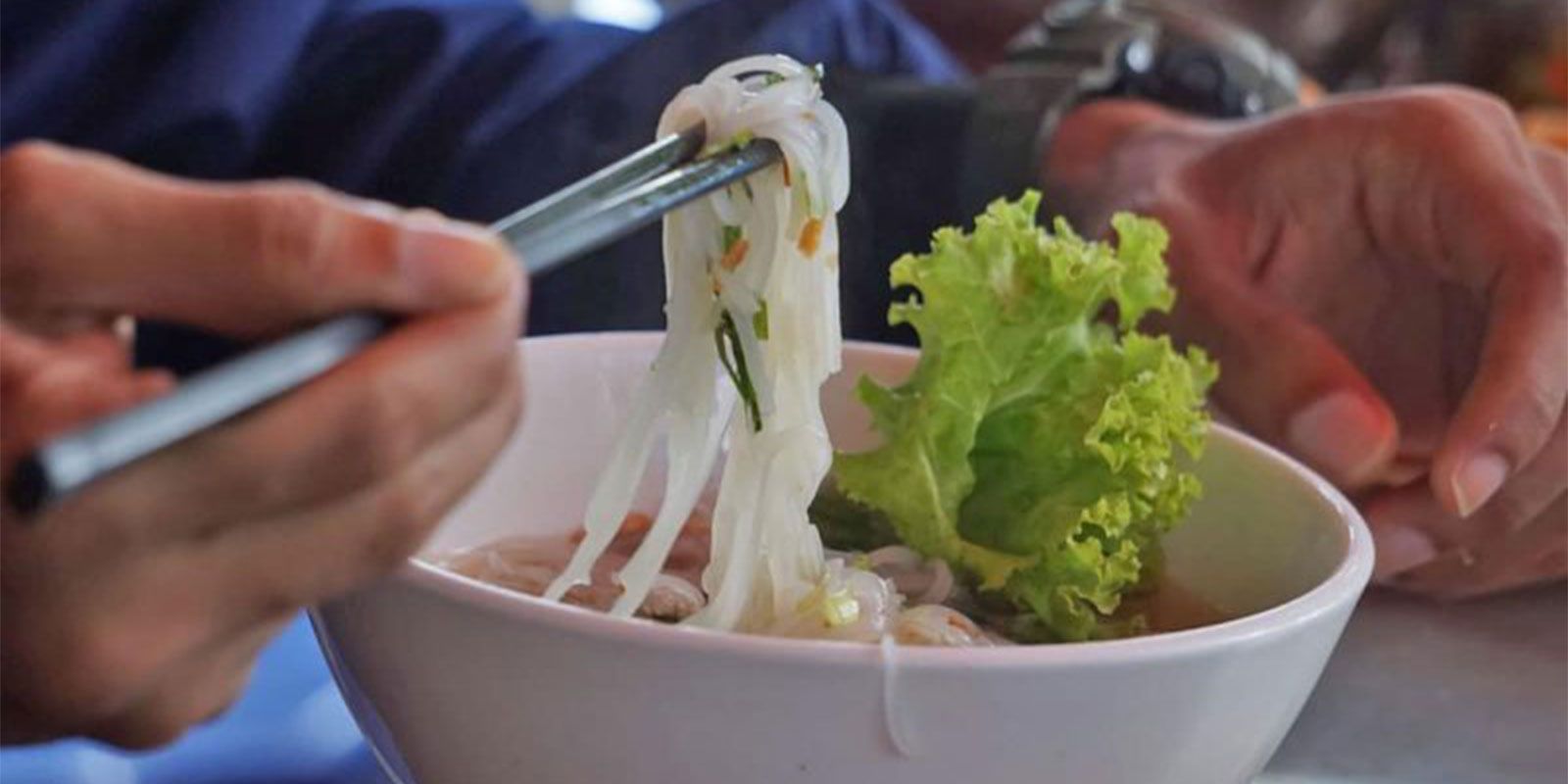 1. Hot Noodle Soup (Kuy Teav)
Kuy Teav is a popular breakfast of all time in Cambodia for local people and its origins influenced by the Chinese cuisine. A common phrase that the older generation meets up in the morning, says "TOS TOV KUY TEAV-COFFEE! (Let's go to eat Noodle Soup & Drink Coffee!)".
Kuy Teav has meat option that it can be ordered depending on people's favorites such as Pork, fish balls, chicken, beef or seafood served at the different price of each meat you choose – from 5,000 to 8,000 Riels ($1.25 to $2) and seafood is the most high-priced.
Noodle Soup recipes are broth (well cooked), Rice Vermicelli (thin string form of rice noodles), bean-sprout, vegetables, dry onion and/or carrot and parsnip and there's also some flavor to add after a bowl of noodle soup finished such as slice of lime, sugar, salt, chili sauce, fish sauce, soy sauce, just to make it tastier.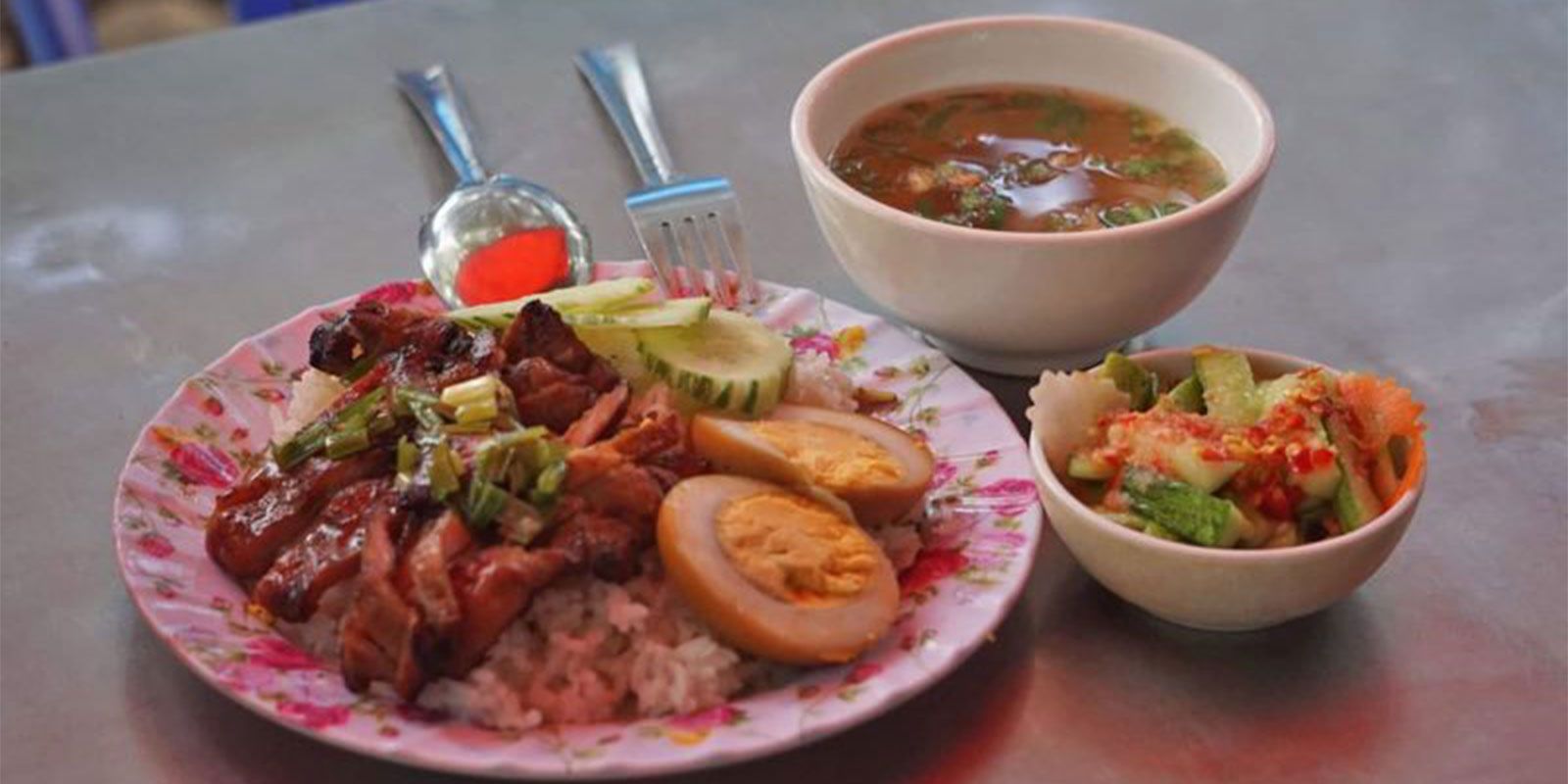 2. Rice with Pork (Bai Sach Chrouk)
Rice is another typical food even for breakfast. One such dish is rice with pork (Bai Sach Chrouk) – smoky, sweet, charcoal-grilled pork served with rice and tangy pickled radish and cucumber which is one of the most popular breakfasts in the morning.
It's quick and easy to get one done. They just need to prepare rice and grilled pork, a few slices of tomatoes or cucumbers. You can find the dishes usually grilled on the side of the road over charcoal, a dish costs 5,000 Riels ($1.25).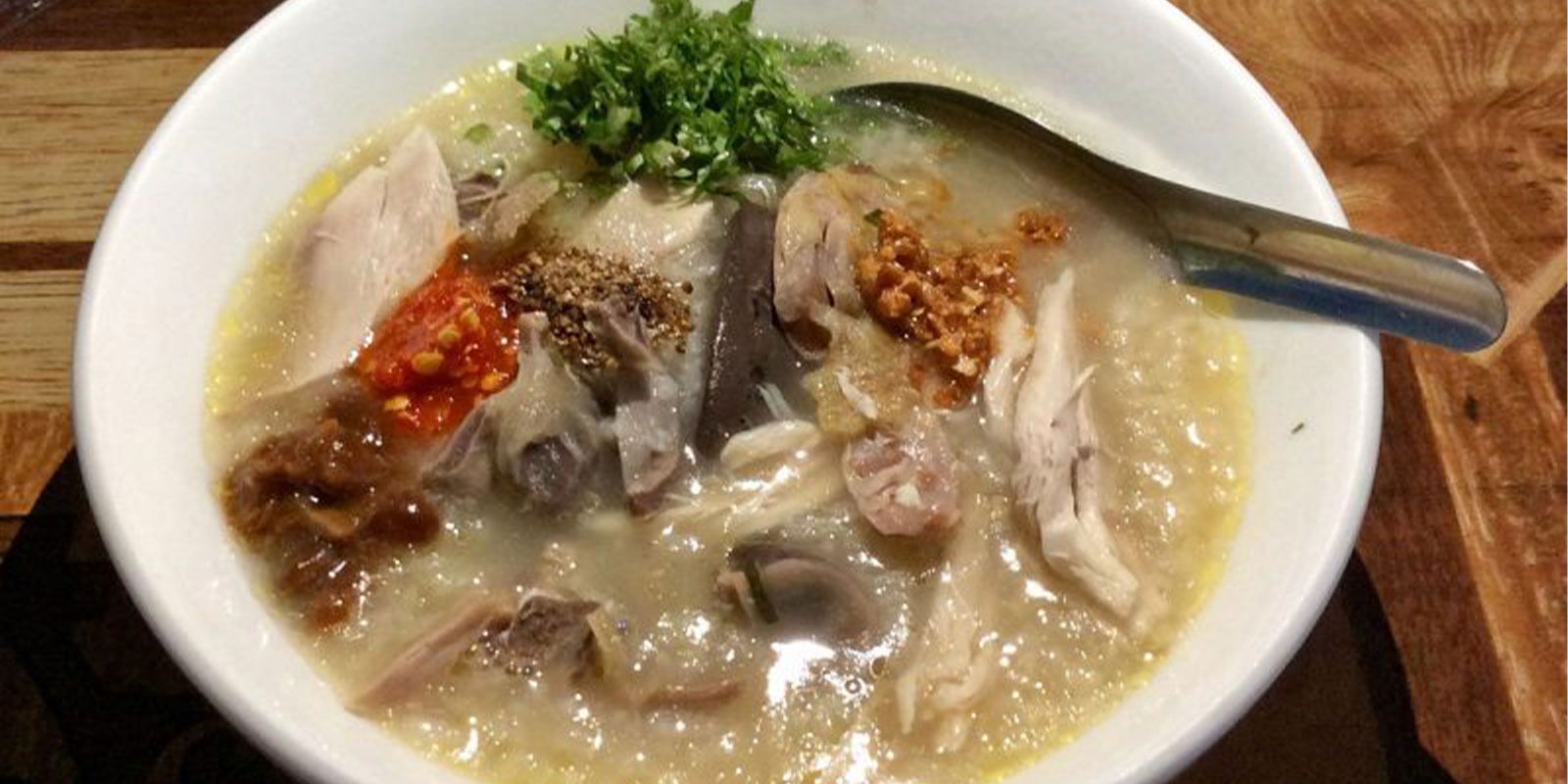 3. Rice Porridge (Bobor Kreung)
Another basic dish is Rice Porridge, commonly enjoyed for breakfast. At one bowl is range from 3,000 to 4,000 Riels ($0.75 to $1) depending on the place you'll eat. The dish serves with 3 types of meat – pork, fish, and chicken.
It takes a bit longer to make it ready to serve. When rice soup has been finished, separate ingredients such as Pork, bean-sprout, dry onion, stone leek, together with soybean, pepper, sugar can be added for the thick taste, because people want different tastes. We call it Bor Bor Kreung – this means one bowl of it, we normally add so many ingredients as seen in the picture. This Khmer breakfast can be found at any local market as well as the street. Also, you will spot many Rice Porridge man on a kind of roofless Cart which normally pushed for sale along the street.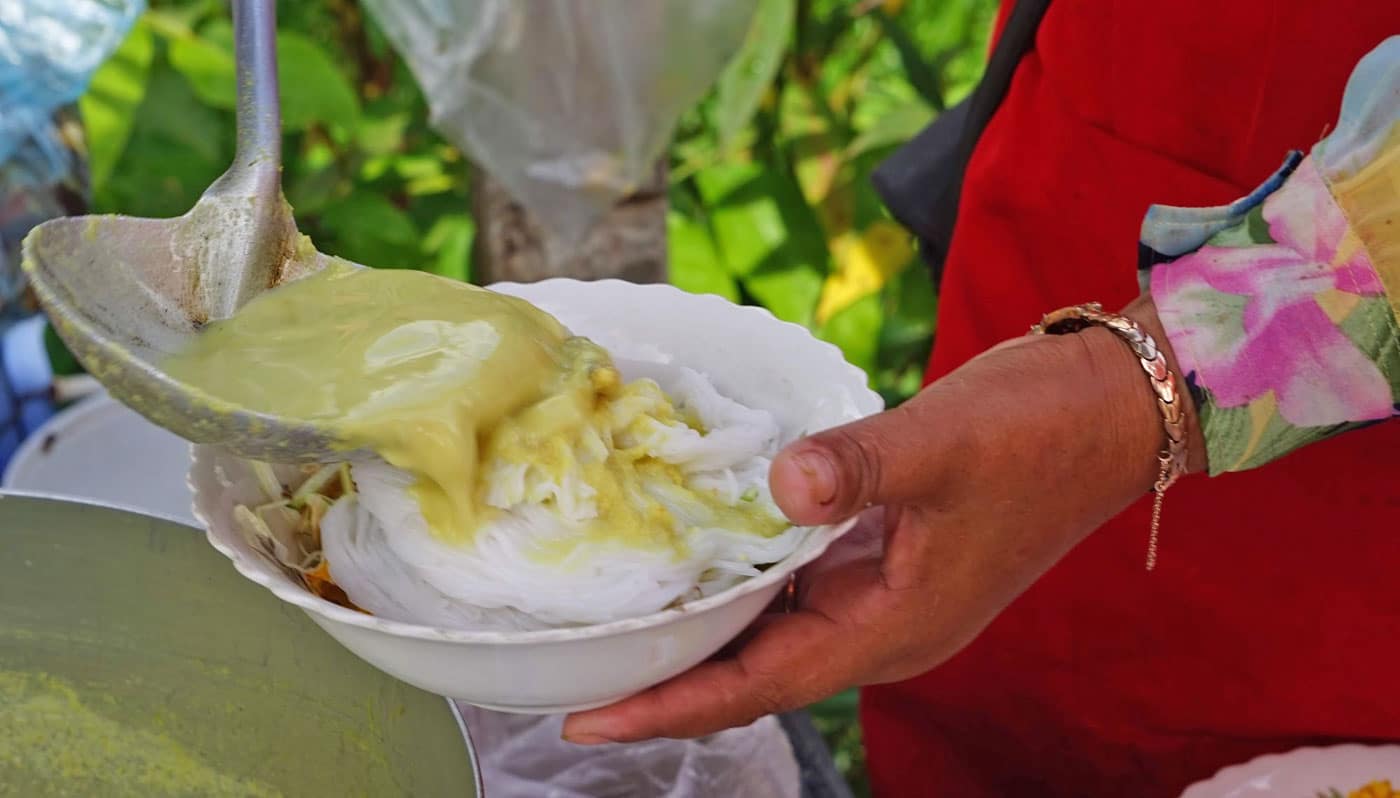 4. Khmer Noodle (Nom Banh Chok)
Num Banh Chok is a traditional Cambodian rice noodle which is considered a fresh and healthy dish in the morning. It serves with fish gravy, fresh vegetables include banana blossom, pieces of cucumber, green chili and mixture of sauce to sprinkle to make this dish tastier. You can find this delicious dish only at the local place on the side of the street in the city.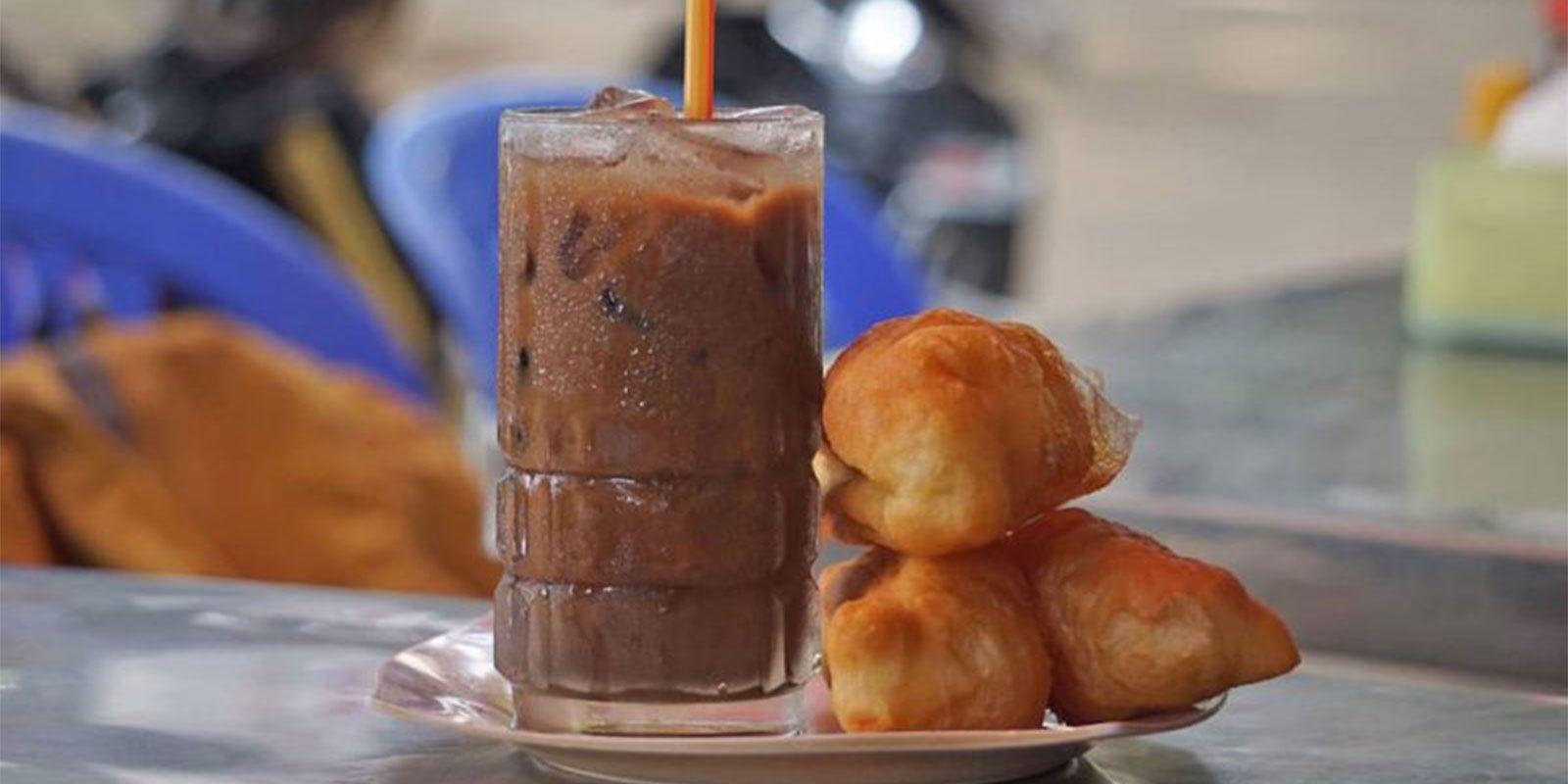 5. Bread & Coffee (Num Bang Coffee)
If you really do not feel like to spend much time on breakfast, then grabbing Coffee and Bread is all you would love to. This choice will energetically blow your beginning of the day delightful, just walk along the street and have one. You'd love to taste specifically the actual local coffee, so stay humble for a minute and place your order for Ice or hot Coffee (Say: "Coffee Teurk Kok" for Ice Coffee and "Coffee Kdav" for a hot one). It's normally Riel 2000 for the most place. There's only one type of Khmer coffee when you stop for breakfast at local, you will not up for order Latte, Cappuccino or Americano…they will not get this type. Just have an order Hot or Ice coffee and you will have all set of good coffee, but just make sure to tell the vendor the percentage of milk serving in the cup of coffee, say you want not too much milk. Basically, Cambodian Coffee contains half original coffee and half milk and it seems too sweet to some westerns. To be more satisfying with your cup of coffee, and to also fulfill your morning energy, have one Bread also. Order bread or Khmer common bread called " Num Chak Khvai". It's only Riel 500. It's more delicious to have it with coffee.
Oh, whaaaaa….it's full now and let start the day with full of energy and count the day!
Read more Articles
No matter who you're looking to travel with, you can depend on our 2,500 trusted operations to make sure everything's taken care of