8 Adventurous Things to Do in Vang Vieng, Laos
Vang Vieng is a little town in the middle of nowhere in Laos. It is situated along a beautiful bend in the Nam Song River and is a popular backpacker destination, offers beautiful terrain to explore, with stunning karst limestone mountains, caverns, and old temples.
Now it's a top-rated Laos destination because of its natural beauty of vibrant green paddy fields bordered by beautiful limestone, as well as a diverse selection of outdoor activities.
Travelers may enjoy so much more of Vang Vieng than just walking around bars, with activities such as cycling, trekking, kayaking, zipline, and rock climbing. Vang Vieng's reputation has transformed dramatically in recent years, attracting a growing number of Asian and Western visitors seeking to experience living at a considerably slower pace than Laos residents.
So what are the most enjoyable activities in Vang Vieng? To discover it, keep reading!
1. Blue Lagoon in Vang Vieng
Blue Lagoon is incredibly attractive, but because of this, it attracts far too many visitors during the day, to the point that your visit might be completely ruined. The ideal time to visit Blue Lagoon is early in the morning before the crowds arrive and enjoy the entire lagoon to yourself. If you'd like to get away from the crowds, there are caves to explore, but you'll need a flashlight to walk inside.
2. Nam Xay Viewpoint
The greatest place for one of Laos' most magnificent panoramas is Nam Xay Viewpoint in Vang Vieng. Unbeatable views of craggy limestone cliffs, verdant woods, and rice fields may be had from the summit. You'll reach the summit after a 30-minute intermediate climb, where you'll almost certainly find peace and quiet, as well as an incredible photo opportunity with a motorbike strangely left there by residents. But, before you begin shooting pictures, take a deep breath and unwind in the hammock.
Related post: Luang Prabang Travel Guide: What to do and see
3. Mountain biking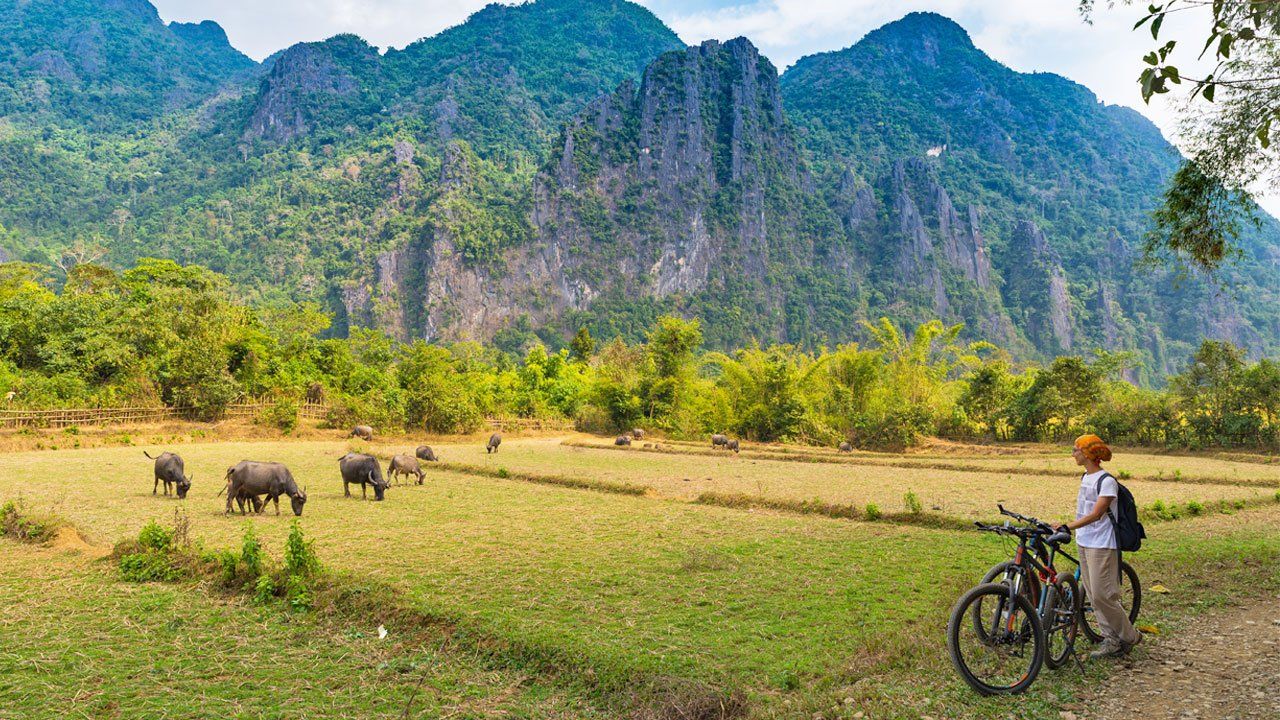 Riding a mountain bike is the best way to explore Vang Vieng and its surroundings. There are numerous picturesque paths to choose from. The most popular is biking to Blue Lagoon and returning. Another route passes via the settlements along the Nam Song River's west bank, past Blue Lagoon and several caves. The eastern loop, which travels across the hills, is the most challenging.
4. Hot Air Balloon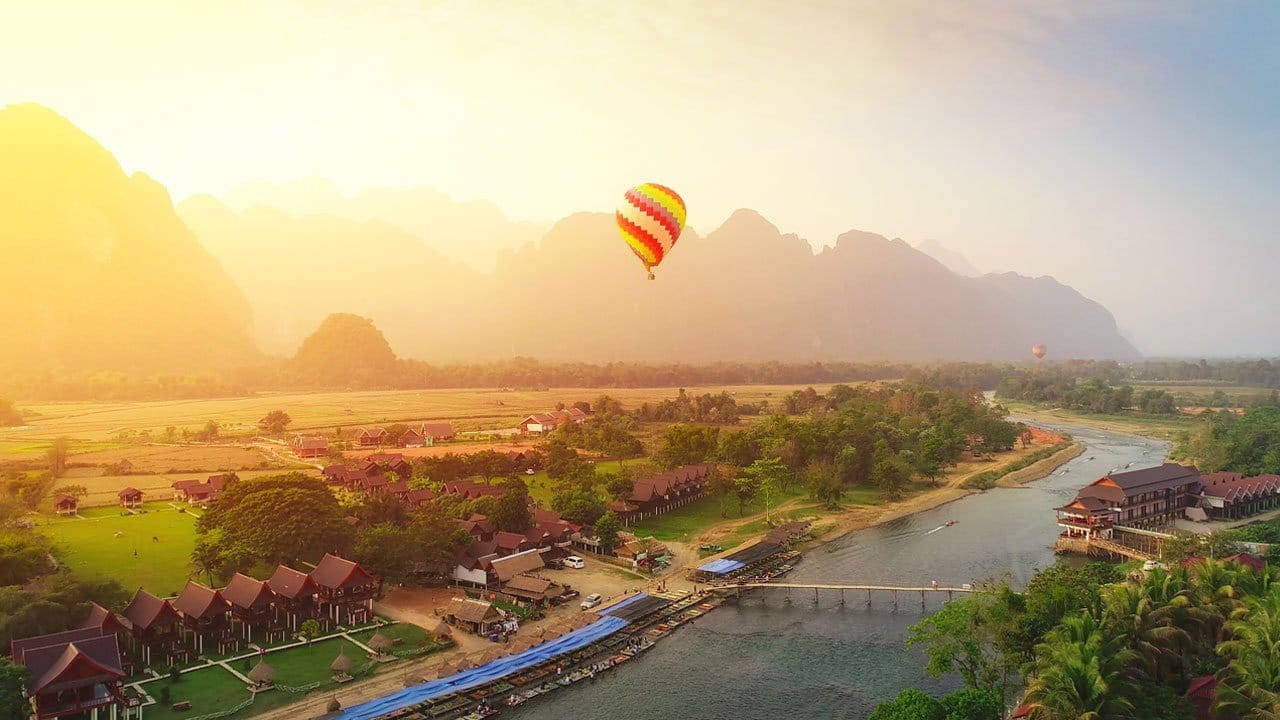 Looking from above in Vang Vieng is also a unique experience that is far less expensive than riding in a Myanmar air balloon.
Balloon rides above the peaceful Nam Song river, majestic Karst mountains, and beautiful Vang Vieng rice fields occur at sunrise and sunset in Vang Vieng.
Related post: Cheap Travel Destinations in Southeast Asia 2021
5. Kayaking in Vang Vieng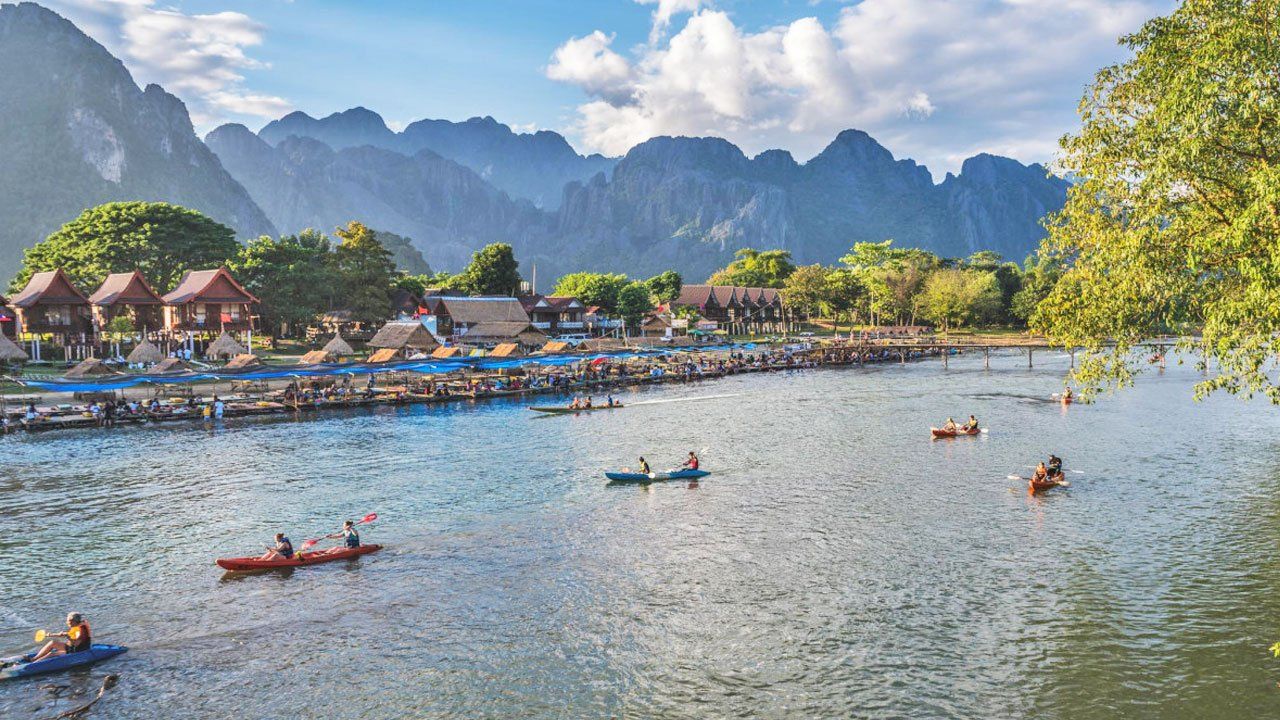 The greatest way to explore the pristine environment of Vang Vieng is to go kayaking on the Nam Song river. Throughout the voyage, you will be able to see the magnificent limestone mountains on both banks of the river and watch the life of the people. It was one of the most visually appealing kayak routes in Laos.
6. Zipline
The beautiful verdant terrain of Southeast Asia's Vang Vieng is ideal for a zipline. Tham Nam features nine ziplines of different lengths, including a Superman zipline that leads all the way down to the water cave, and is definitely one of Vang Vieng's most thrilling attractions.
7. Tube the Water Cave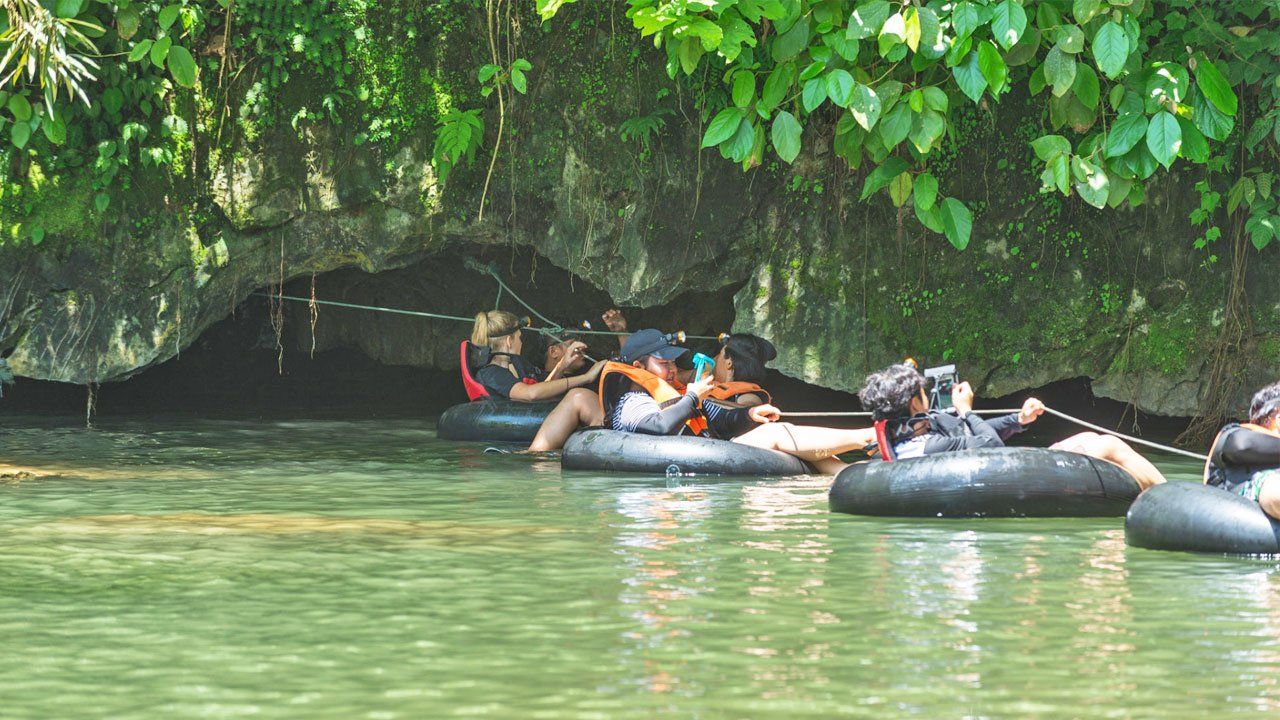 Tubing is a must-do on every vacation to Vang Vieng, and what could be better than tubing within a cave? The water cave is, as you might expect, buried beneath water, with a modest entrance allowing you to float into it with your inner tube. The cave itself was uninteresting, but floating within a dark tunnel while dragging yourself around with a rope was a fun experience.
8. Visit the Rice Fields in Vang Vieng
The rice fields in Vieng Tara, on the opposite bank of the Nam Song River, are one of the greatest Vang Vieng attractions. The best way to get to the rice fields is to walk across the free bamboo bridge at Amari Vieng Vang.
The walk from the town center to Vieng Tara takes around 20 minutes, however, keep in mind that many of the bridges are not free.
Read more Articles
No matter who you're looking to travel with, you can depend on our 2,500 trusted operations to make sure everything's taken care of