7 Best Temples to Visit in Siem Reap
The temples of Angkor attract millions of visitors every year, especially those of the vast Angkor archaeological park. Over its 900-year history, the park has attracted millions of tourists, many of whom come to see its famous temple complex. Deeply rooted in Khmer culture and history, these temples are the pride and joy of the Angkor Archaeological Park, with over 20 different structures to explore.
There is no doubt that Siem Reap is a kind of spiritual center due to the fact that the Angkor Archaeological Park stretches across 400 square kilometers and contains hundreds of temples. It is clear that visitors can spend days exploring this site and still not see everything.
Today, I am going to list the 7 most beautiful temples that are off the beaten track and away from the hordes of tourists. These are absolutely worth visiting if you want to escape the busy crowds and enjoy a more personal experience.
1. Angkor Wat
UNESCO designated the Angkor Complex, which included Angkor Wat, as a World Heritage Site in 1992. Dedicated to the god Shiva, this masterpiece temple was constructed during the reign of Surayavarman II. It is the world's largest religious monument. In addition, Angkor Wat is a popular tourist attraction as it's one of the most important archaeological sites in Southeast Asia.
According to authorities, "The amount of stone used in the construction of this massive edifice is about the same as that used in the construction of Egypt's Great Pyramid of Cheops," though "Angkor Wat has many more exposed surfaces, nearly all of which are elaborately carved to a remarkable standard."
The temple complex itself appears on the Cambodian flag. Last but not least, Angkor Wat is well-known for its sunrise. It's a once-in-a-lifetime opportunity that you should not miss. I always feel at ease wandering through Angkor Wat.
Related post: Tips to Visit Angkor Wat Sunrise
2. Bayon Temple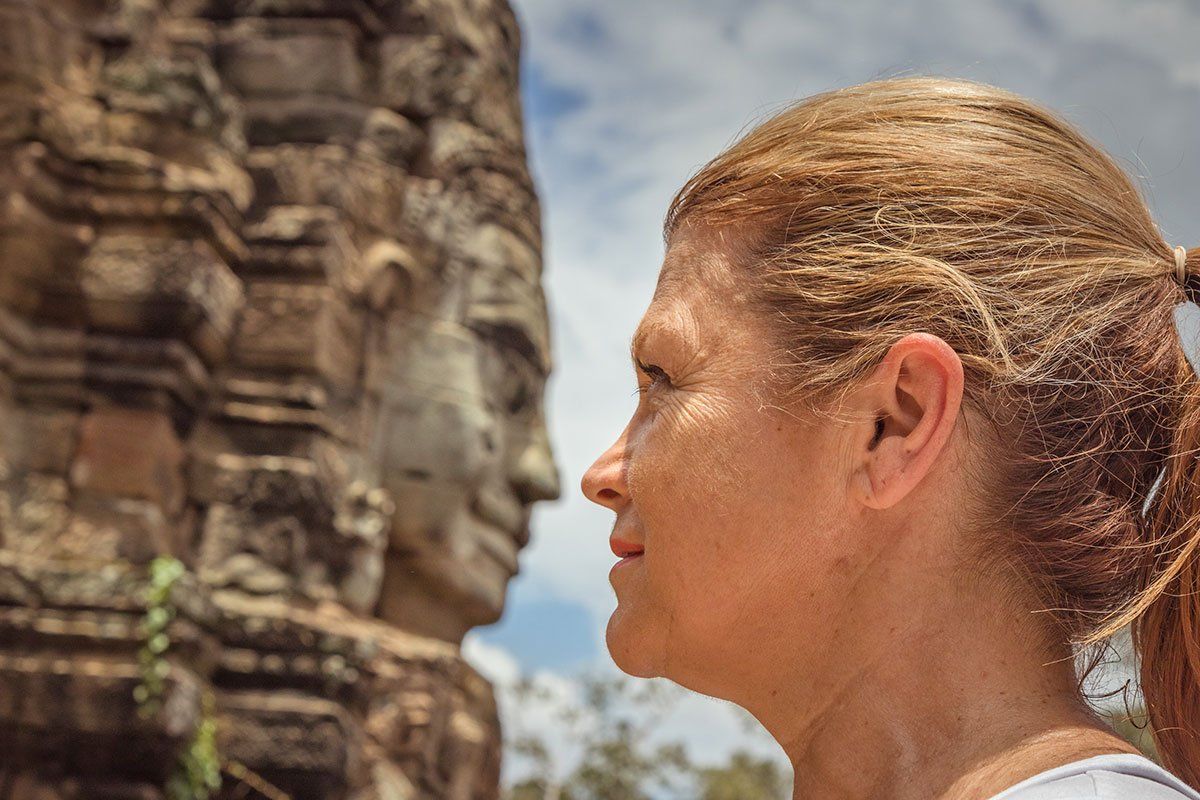 Bayon was the last state temple built in the Angkor Complex. The great Buddhist ruler, King Jayavarman VII, began this construction near the end of his life, in the late 12th or early 13th century. This temple is one of the must-see attractions in the Angkor complex, so do not miss it.
The stone sculptures of Bayon combine a variety of domestic and everyday settings with historical information about Khmer battles won and lost. However, unlike the awesome exterior of Angkor Wat, Bayon does not look impressive or stunning from afar. You will not realize how beautiful it is until you enter the temple.
Recently, I overheard a few residents say something about the Bayon temple that, "Bayon is quite old; nothing is interesting about it." It upsets me a lot to hear this, and then my thoughts went, "Dudes, what is your purpose for going there? To take pictures or to explore its history? " Instead of judging the book by its cover, you should open your heart to experience it. In addition, if you are a photo lover, there are numerous unique spots to capture memorable pictures at Bayon.
Being there with a guide can help you point out where to get the best shots – including the most popular and iconic pose of facing "nose to nose" with one of the giant heads. I once took a picture of that angel. That photograph holds a special place in my heart. Every time I see the multitude of giant stone faces smiling, I smile too. You know, the temple itself has been through a lot, but it is always there smiling. I said to myself, "Dude, why not smile?"
3. Ta Prohm Temple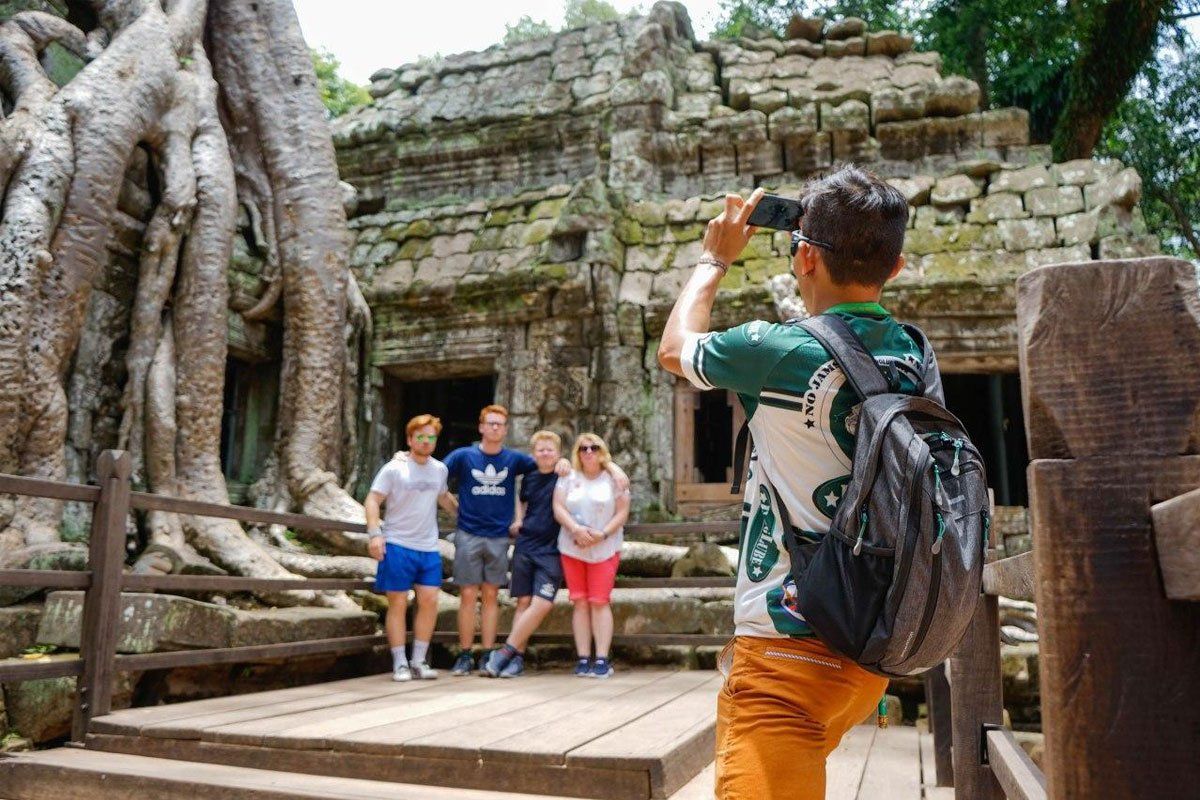 Ta Prohm is one of the Angkor complex's major monuments. This large complex was, yet again, the work of Jayavarman VII, dedicated to his mother in Buddhist style in the late 12th century. Ta Prohm is attractive and special because of the massive tree roots that rise high above the temple. Whenever I walk inside Ta Prohm temple, I always feel so magical. It is like I got lost in the jungle, and then I found this beautiful monument.
Everywhere I turn, I see nature. It is somehow indescribable. If you are a nature lover, do not miss the experience of this jungle temple. You will not be disappointed.
Another fascinating fact about Ta Prohm temple is that it was the location for the filming of the Tom Raider movie in 2000. "The courtyard features in the scene where Angelina Jolie picks a jasmine flower and is promptly dropped into a deep vault."
4. Phnom Bakheng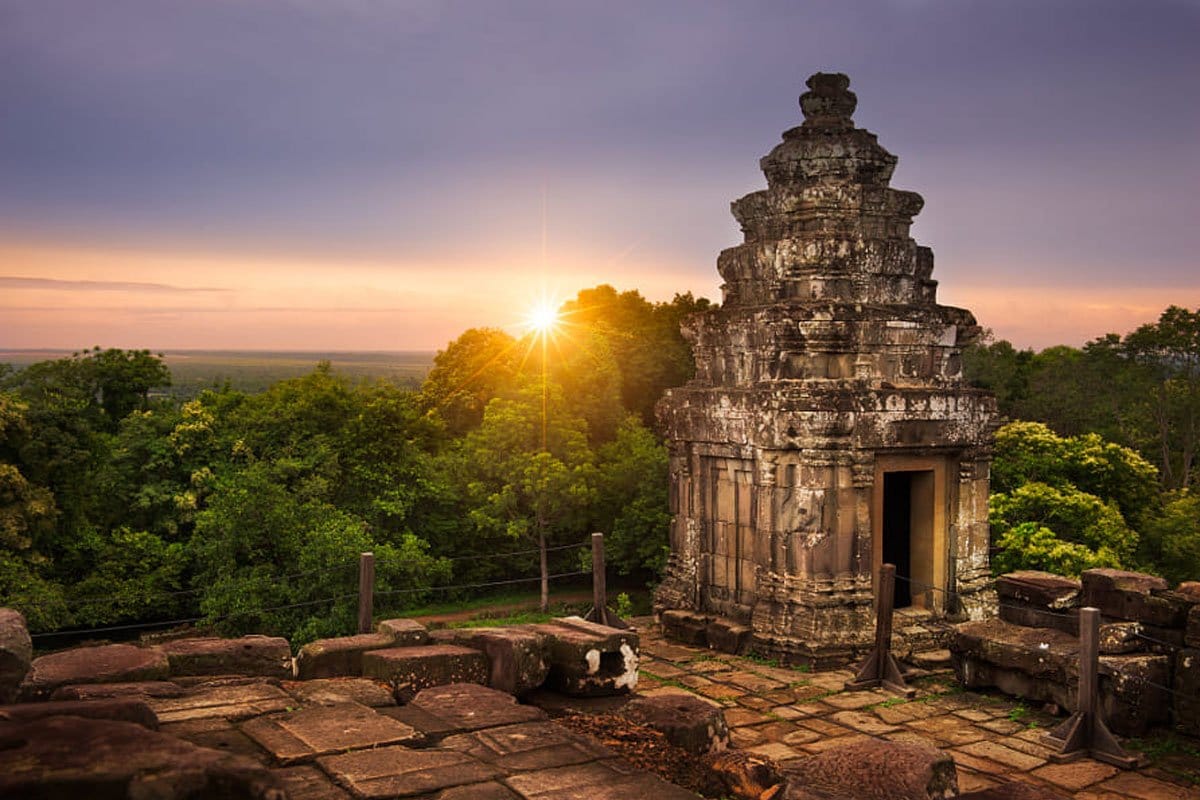 Phnom Bakheng is a Hindu and Buddhist temple. This mountain temple was dedicated to the god Shiva and was built at the end of the 9th century to early 10th century by King Yasovarman.
Phnom Bakheng is a 60-meter-high hill. That makes the temple a favorite tourist destination for seeing the iconic sunset over Angkor Wat. If you enjoy sunsets, this is a must-see, and it's a soothing way to end the day. However, in the high season, the temple tends to get crowded.
As a result, if you want to get a good spot to see the sunset, plan your visit early in the afternoon at 4 pm. Then when you reach the top of the temple, you'll be speechless with the view and say, "It's worth climbing up."
Related post: 4 Best Spots to Enjoy Sunset in Siem Reap & Angkor Archaeology Park
5. Preah Khan Temple
The temple of the sacred sword, Preah Khan, was established in the 12th century by Buddhist King Jayavarman VII. It was built in the style of Bayon and was dedicated to Buddhism. The temple is presently in the process of being restored.
The fascinating thing to see at Preah Khan Temple is the great trees with suffocating roots that cling to the sandstone and laterite walls. Preah Khan's core sanctuary is cruciform, with four entrances. You may see "the Shrine of the White Lady," a beautiful figure tucked away in a hidden room, apparently not an apsara but the wife of Jayavarman VII. The shrine still looks venerated. I remember visiting there once. I had no idea that there was a figure of Jayavarman VII's wife. I don't think I'd be able to find this hidden spot without the help of a guide.
Related post: 9 Hidden Temples in Siem Reap
6. Banteay Srei Temple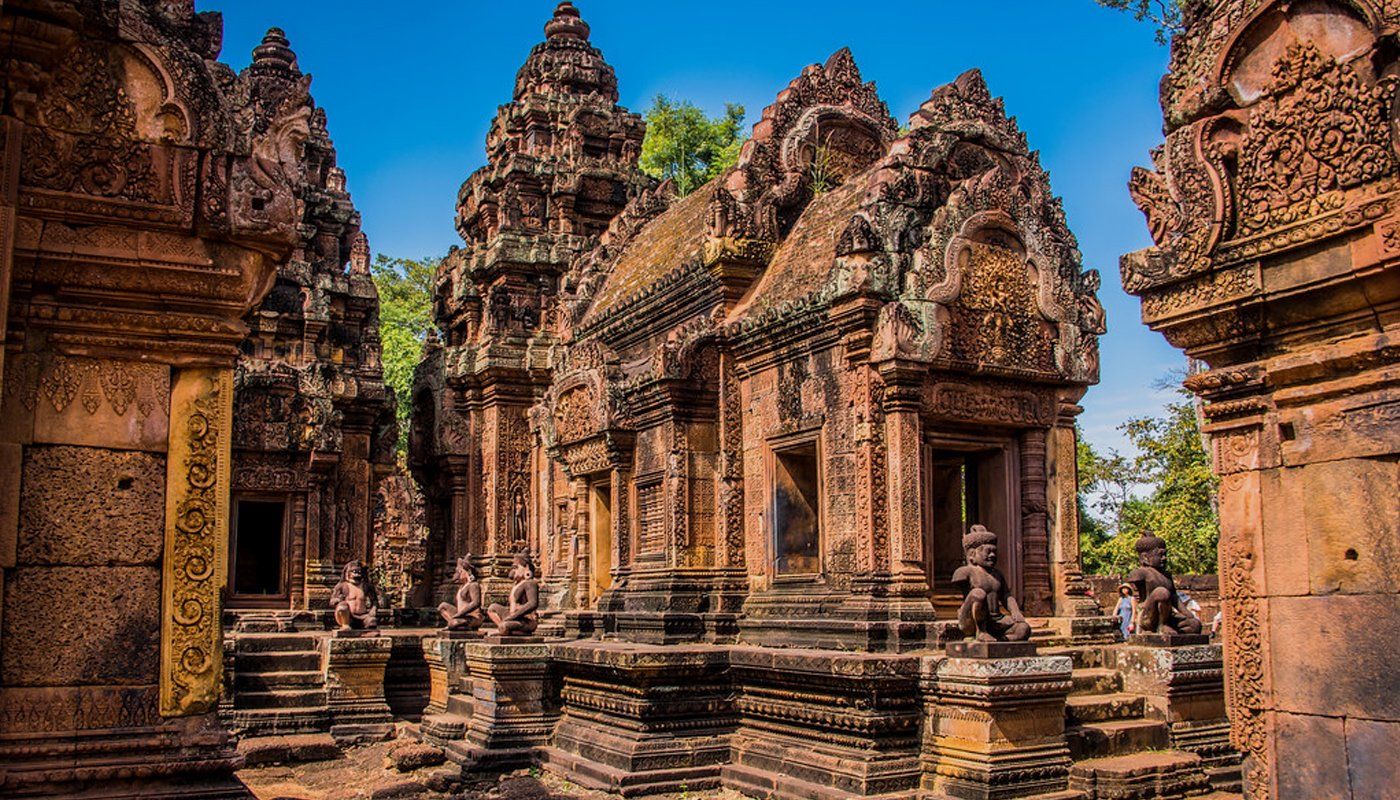 Banteay Srei, or "The Citadel of Women," was built in 967 by Yajnavaraha, a Brahmin priest and counselor to King Rajenravarman II and his brother. Because of the numerous sculptures of "Apsara" nymphs, it is known as "The Citadel of Women." In comparison to other Angkor monuments, Banteay Srei's sandstone structure is quite small. It is probably that the temple was not built by a king, and it would be disrespectful to build a temple larger and grander than a royal temple. Banteay Srei is located in a remote area, so the distance from downtown Siem Reap to Banteay Srei is 36 km, and 32 km from the Angkor complex.
On the way to the temple, you will pass the "Landmine Museum" and Banteay Samre temple; they are pretty and peaceful and have no crowds. They're worth stopping by for a short visit. Therefore, if you are interested in the art and architecture of Angkor, Banteay Srei is a "must-see" temple for you as it is a masterpiece of Angkor art.
7. Banteay Kdei Temple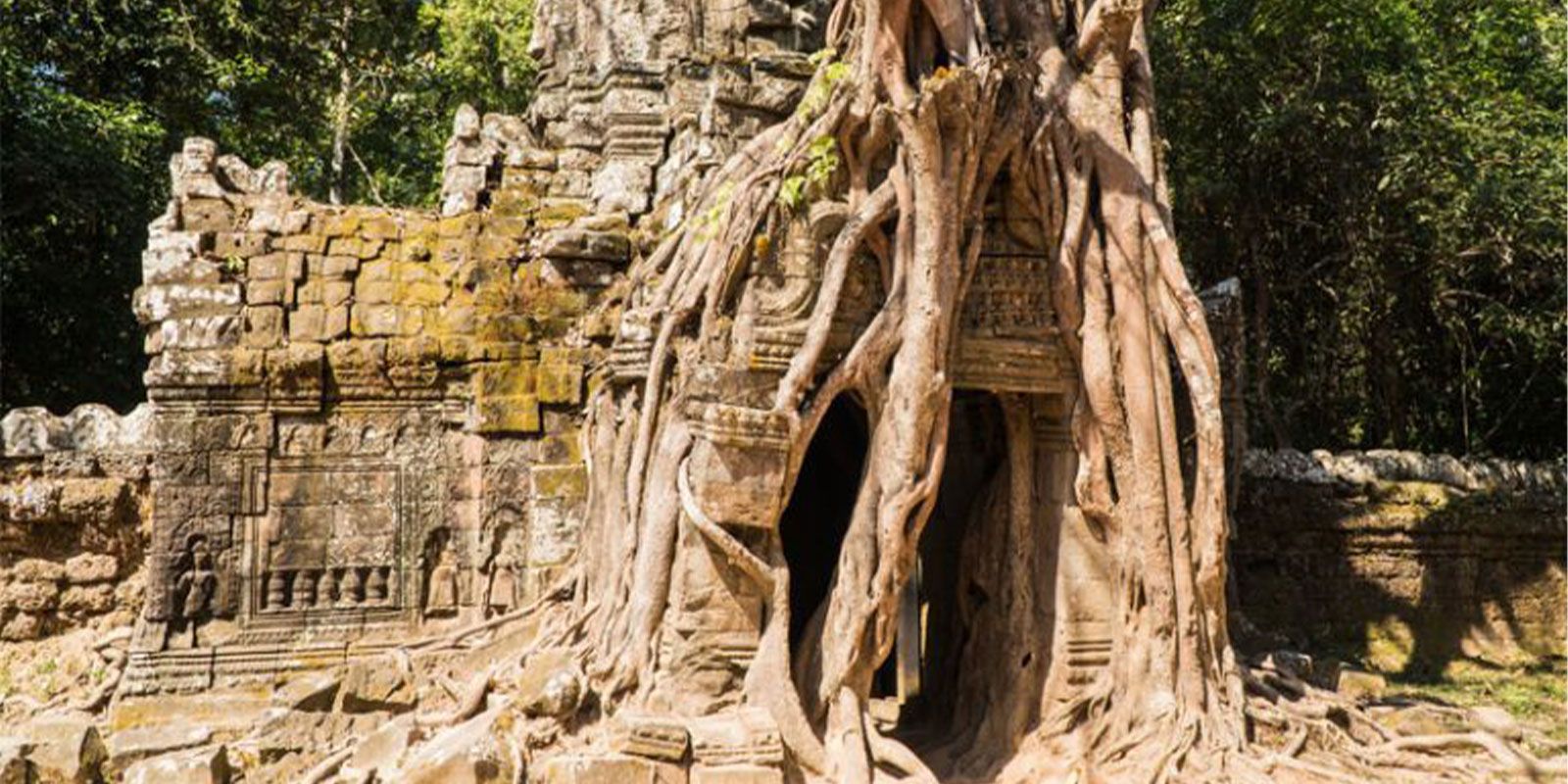 Banteay Kdei, or "Citadel of Chambers," was built in the late 12th and early 14th centuries under the reign of Jayavarman VII. The temple was built in the same style as the Bayon, Ta Prohm, and Preah Khan temples. However, it is small in size compared to other temples in Angkor.
Banteay Kdei is peaceful and quiet. It's one of my favorite temples since it's less crowded. And you know what, quietness is calmness. I was once there with my friends for graduation photoshoots. I remember we had a lot of fun exploring and taking pictures.
Read more Articles
No matter who you're looking to travel with, you can depend on our 2,500 trusted operations to make sure everything's taken care of