Koh Rong Cambodia Travel Guide
In the Southwest of Cambodia, you can find several beautiful tropical islands. Perhaps the most famous and frequently visited is Koh Rong. This small island of paradise is ideal if you want to escape the bustle of big Asian cities and are looking for idyllic beaches.
In Koh Rong, the beaches are white, the sea is crystal turquoise, the people are friendly and time passes slowly.
In this article, we'll give you a complete guide to Koh Rong: what to see & do, how to get there, and other important information before you go on a trip to this piece of paradise in Southeast Asia.
How to get to Koh Rong
Koh Rong can only be reached by ferry from Sihanoukville. It is best to take the first ferry of the day to make the most of your trip.
Ferry companies offer round-trip tickets with an option to stop at Koh Rong Samloem. All ferries go to White Beach (Koh Touch), the main beach on the island. There are 3 other piers on the island and only some companies go there. If you plan to stay in another part of the island like Koh Touch, we recommend booking a ferry that goes to that pier.
You can see the ferry schedules and rates here >>
To get to Sihanoukville, you can take a minibus from Phnom Penh. The trip takes about 6 hours and the cost is about $10 per person. Make sure to book at least one day in advance.
What to see and do in Koh Rong, Cambodia
Enjoy White Sandy Beaches
Being a tropical island in Southeast Asia, the main attractions of Koh Rong are of course its beaches. There are several beaches around the island.
Koh Rong's main ferry port, where most boats arrive from the mainland, is located on White Beach on Koh Touch. As the name suggests, the white beach has fine white sand and is stunning. That said, being close to the port, this beach can get quite crowded.
A little further north of White Beach there is another beautiful beach called LongSet Beach or 4K Beach. Again, as the name suggests, it is a 4 km stretch of white sand.
In a small bay at the eastern end of the island is Coconut Beach, and at the western end is the longest beach on Koh Rong, appropriately named Long Beach. Long Beach is about 14 km long and in the northern part, there is a small village called Sok San.
Related: 8 Best Beaches Holiday in Cambodia
Visit Sok San Waterfall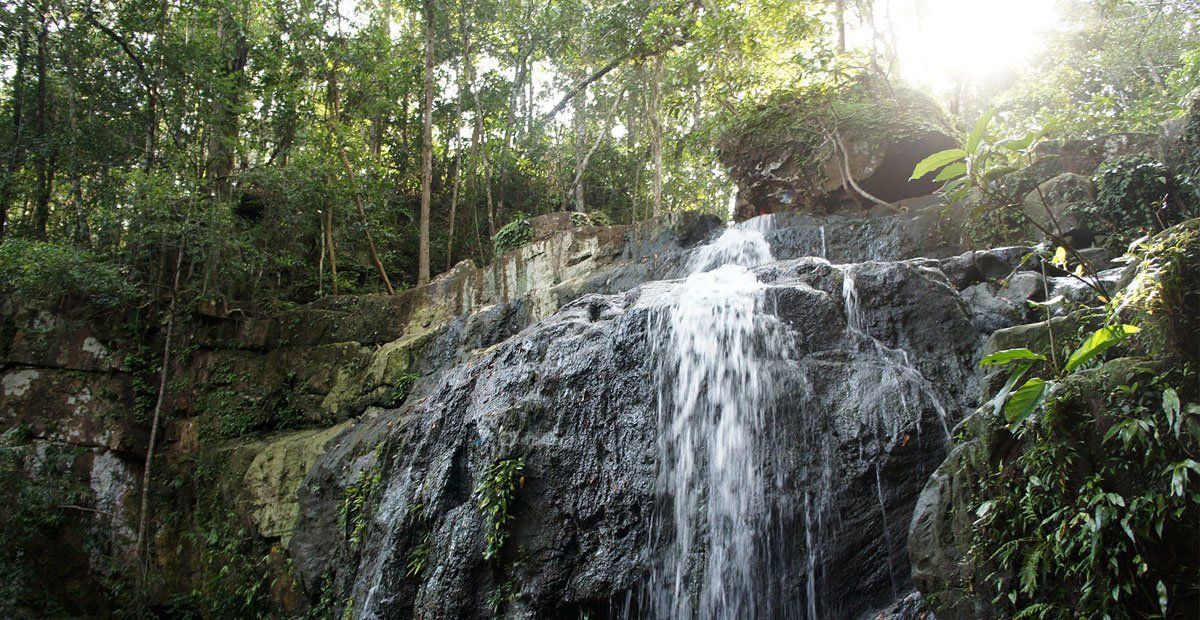 In the town of Sok San, you can find a bridge over a lake that will lead you to a waterfall.
It is best to visit the waterfall just after the rainy season (usually between October and December), as this is the only time it has water- it can dry up during other times of the year.
Just below the waterfall, there is a swimming pool and a bar, it's ideal for relaxing and admiring the views with a cold drink.
Rent a motorcycle
Koh Rong is quite a small island and that makes it perfect for exploring on a motorcycle as well. Although the roads are gravel and can be slippery when wet, they are navigable if you drive carefully.
You can rent scooters in Koh Toch Town or Sok San Town for about $10 per day.
The most recommended route around the island goes from Koh Toch to Long Beach passing through 4K Beach, Coconut Beach, Sok San Village, and the Sok San waterfall.
Go Kayaking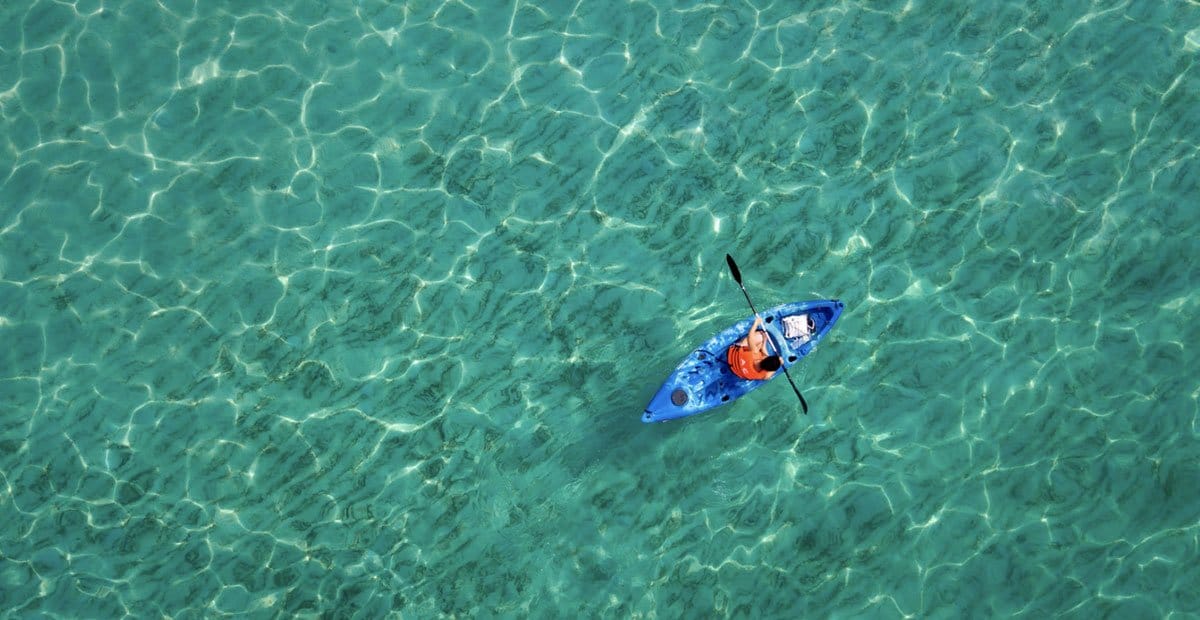 Kayaks are available to rent at many of the island's resorts and hotels. You can kayak to a nearby small Island and enjoy Koh Rong's rich seabed while snorkeling or diving.
There are several diving schools around Koh Rong where you can get your diving certificate. If you are an experienced diver, the waters may not impress you much, but it is a good place for beginners. If you don't dive, you can always snorkel.
Take a day trip to Koh Rong Samloen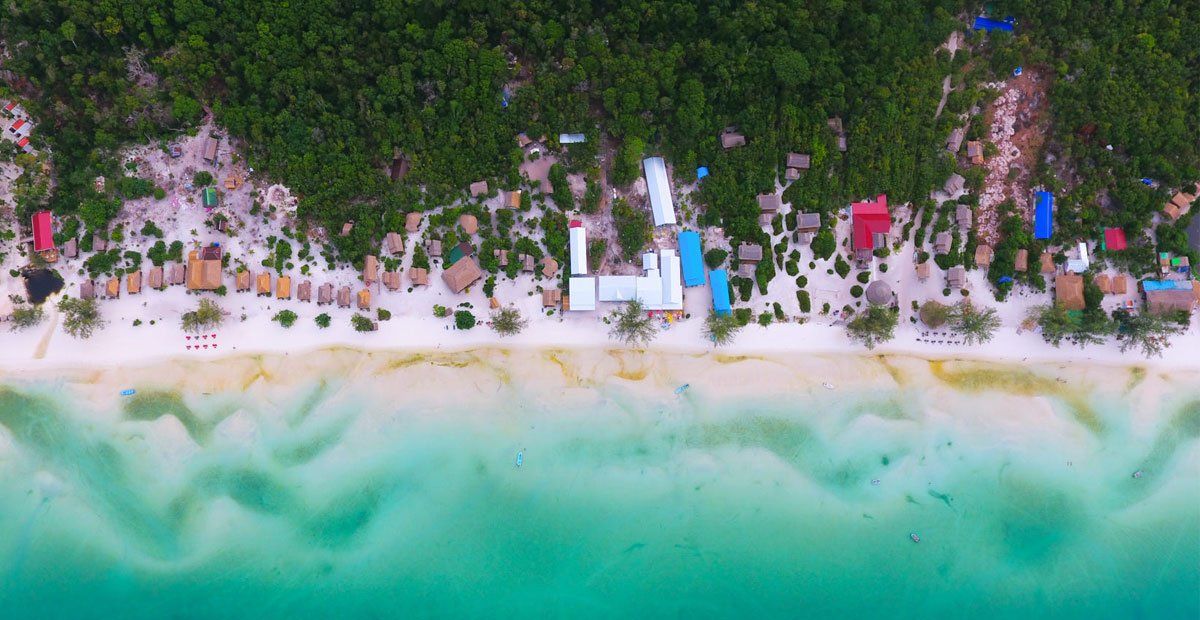 Koh Rong Samloem is considered the little sister of Koh Rong. This tiny island is a quiet and relaxing destination that stands out for its impressive landscape, its white sand beaches, crystal clear turquoise waters, and its tropical jungle. If Koh Rong is heavenly, Koh Rong Samloem is much more so.
Koh Rong Samloem can be reached by boat from any of the Koh Rong piers. You can choose between visiting the island on a day tour or staying there to enjoy the tranquility of this piece of paradise.
Related:
Enjoy the sunset at Koh Rong
One of the things you can never miss on an island like Koh Rong is the sunset. On this beautiful island, you just have to relax on the beach and watch the sun set down behind the ocean.
Additional Information
Climate
Koh Rong has a warm temperature around 30 °C throughout the year. During the night the temperatures can drop to approximately 22ºC.
The island has two seasons: dry and wet. The dry season starts from October and lasts until April. May to September is the rainy season.
Related: Cheap Travel Destinations in Southeast Asia 2021
When is the best time to visit Koh Rong?
The best time to visit Koh Rong is during the dry season, from October to April. A little before and after the dry season (mid-November to early May) is also a good time to visit Koh Rong.
Money and budget for Koh Rong
Although the official currency in Cambodia is Riel, prices are generally indicated in US dollars (USD) and that is the most widely used currency.
ATMs usually have both currencies available. There is a $4-6 fee each time an ATM is used.
Keep in mind that there are no ATMs on the island, so make sure you have enough cash with you. Compared to the mainland, the island is a bit more expensive. A basic double room with a bathroom and air conditioning cost about $35 per night.
For dinner with a drink, you can expect to pay between $15-20 for 2 people.
An approximate budget to visit the island of Koh Rong is about $25-$50 per day for one person.
Internet access
Most accommodations offer free Wi-Fi. The island has good telephone coverage.
Read more Articles
No matter who you're looking to travel with, you can depend on our 2,500 trusted operations to make sure everything's taken care of