9 Hidden Temples in Siem Reap
These secret temples in Siem Reap and the surrounding countryside are ideal for temple explorers looking for something a little new, as well as a little adventure. These are temples that have not been restored or rebuilt in hundreds of years, and although their ruins are mostly in much poorer condition, they have a lot of beauty and sound like the set of a Tomb Raider or Indiana Jones film.
Although Angkor Wat and the nearby temples are rightly regarded as among the world's most impressive ancient monuments and unquestionably the star attractions of Siem Reap, a common criticism about them is that they are too crowded, with thousands of visitors per day. Since they're off the beaten path, these Siem Reap underground temples aren't quite as busy, and you may be the only one there when you visit.
Here are the 9 best-hidden temples you should not miss when traveling to Siem Reap:
1. Prasat Chau Srei Vibol
Just outside of the Angkor Archaeological Park is Chau Srei Vibol, a huge temple complex that has unfortunately succumbed to the ravages of time. The majority of the structures here have partly collapsed, with others being covered by tree roots.
The buildings seem to have been quite clearly painted even when they were first built, despite the fact that they date back to the height of the Angkor dynasty in the 12th century. However, if you're looking for a tranquil setting in which to experience a "lost temple" adventure, this is a fine option. It is about 29 kilometers away from Siem Reap town.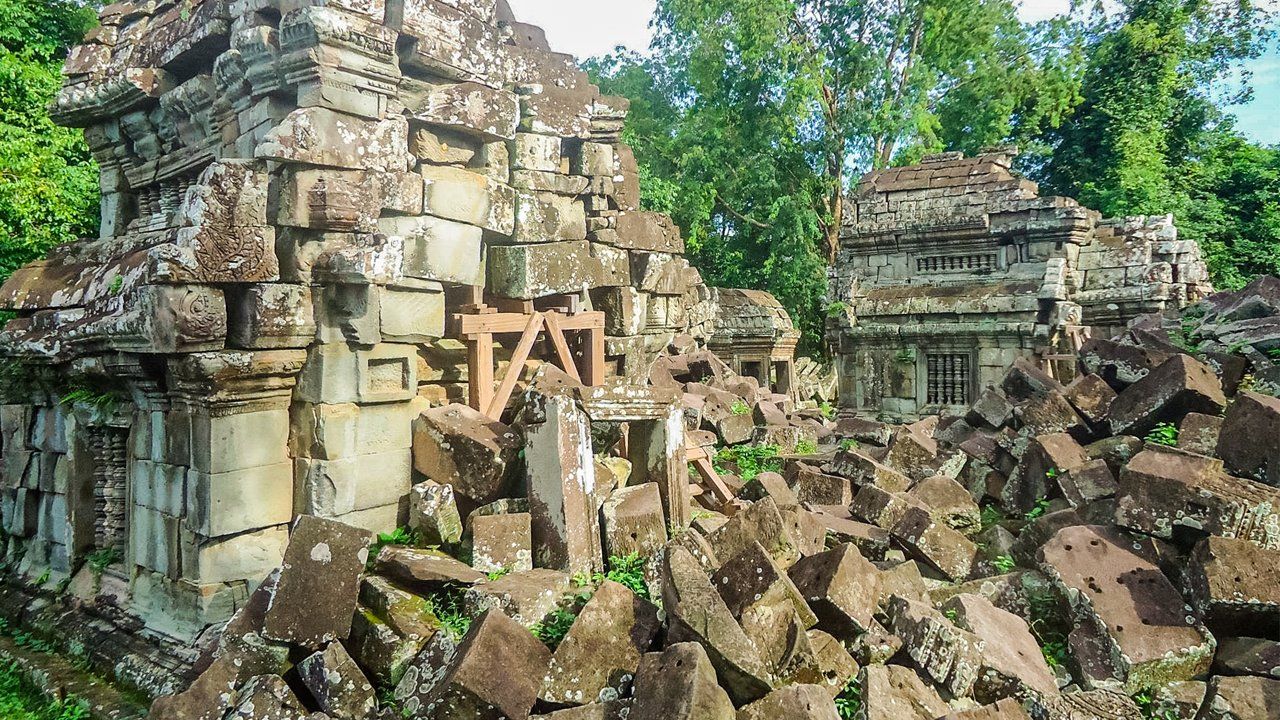 2. Prasat Banteay Thom
Banteay Thom is one of the most tranquil and majestic temples in the Angkor region, but it is largely unvisited due to the difficult access, which necessitates mountain bikes or a challenging motorcycle trip. The medium-sized building, built by the first Buddhist king of Angkor, Jayavarman VII, follows the Bayon model of architecture, and most of it has not been overgrown. The buildings and bas-reliefs are in outstanding condition, despite their age and lack of upkeep. This temple is about 14 kilometers away from Siem Reap.
Related post: Guide to Siem Reap: Getting Off the Beaten Track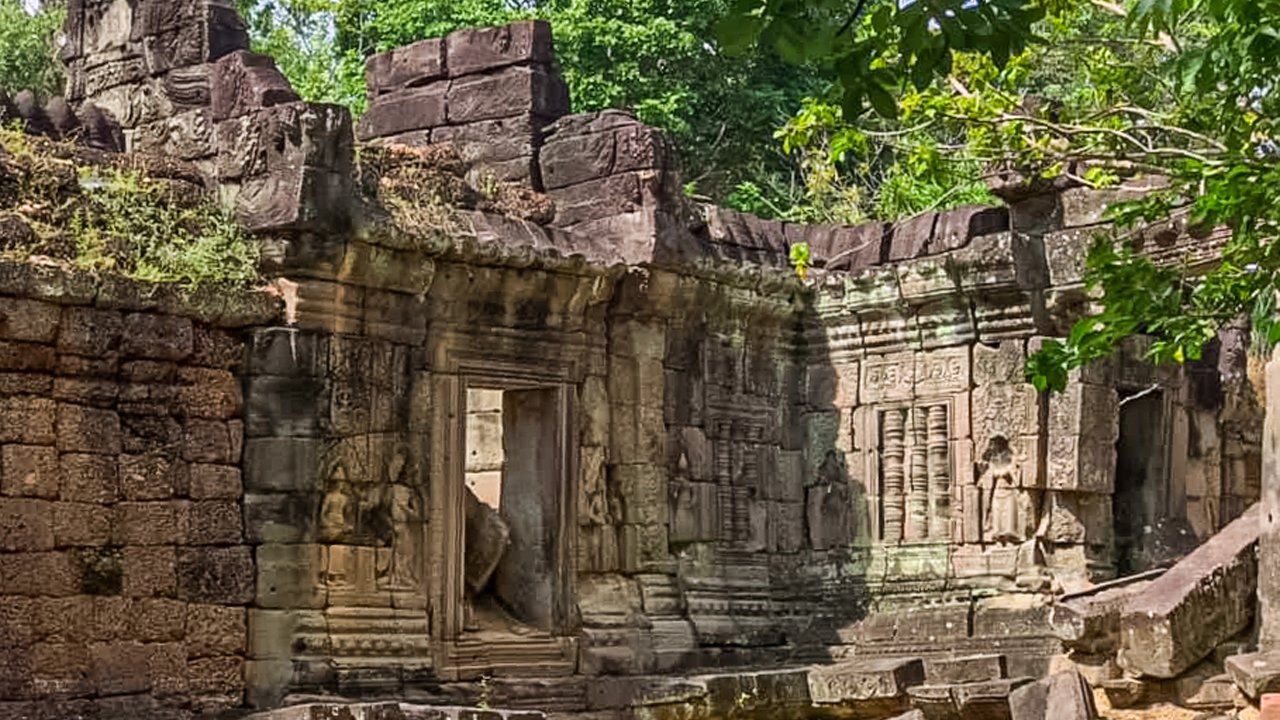 3. Phnom Bok
Phnom Bok is one of Angkor's oldest temples, as well as one of the most fascinating. Many travelers are unaware of it, let alone where it is located, so you're sure to have the place to yourself.
And those who are aware of the picturesque, overgrown temple seldom include it in their travel plans because the 600-step climb to the top of the 235-meter hill it sits atop is too difficult for most travelers. Carry plenty of water if you intend on visiting this unspoiled place to take in the incredible panoramic view of Angkor and Tonle Sap. This temple is about 22 km from Siem Reap.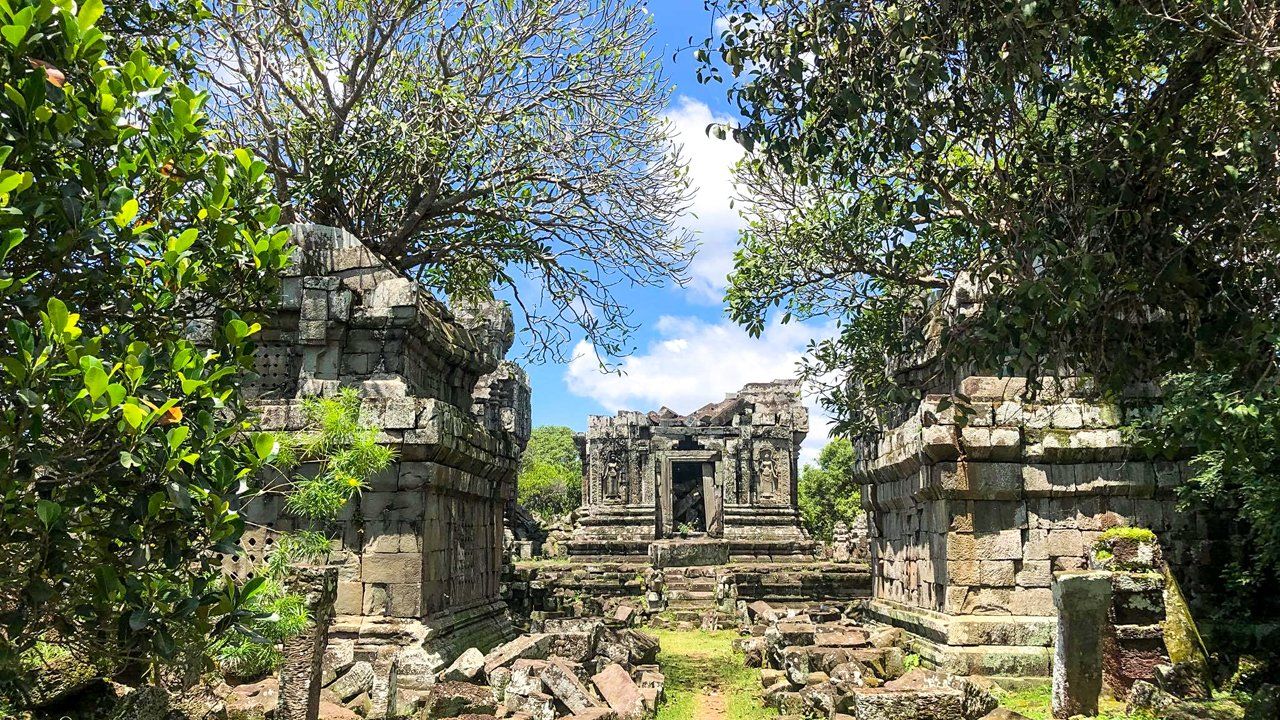 4. Prasat Banteay Prei
Banteay Prei is located just north of Preah Khan Temple, off a minor road. Although it was constructed at the same time and in the same style as Bayon Temple, it is much smaller and lacks the more prominent structure's iconic towers, giving it the appearance of a miniature model.
The temple has well-decorated walls and a moat that surrounds the inner structures. Despite its name, which means "Citadel of the Jungle," Banteay Prei is now largely surrounded by cattle grazing land, so it doesn't have the same "lost jungle temple" feel as other sites in the city. It is about 15 kilometers away from Siem Reap city.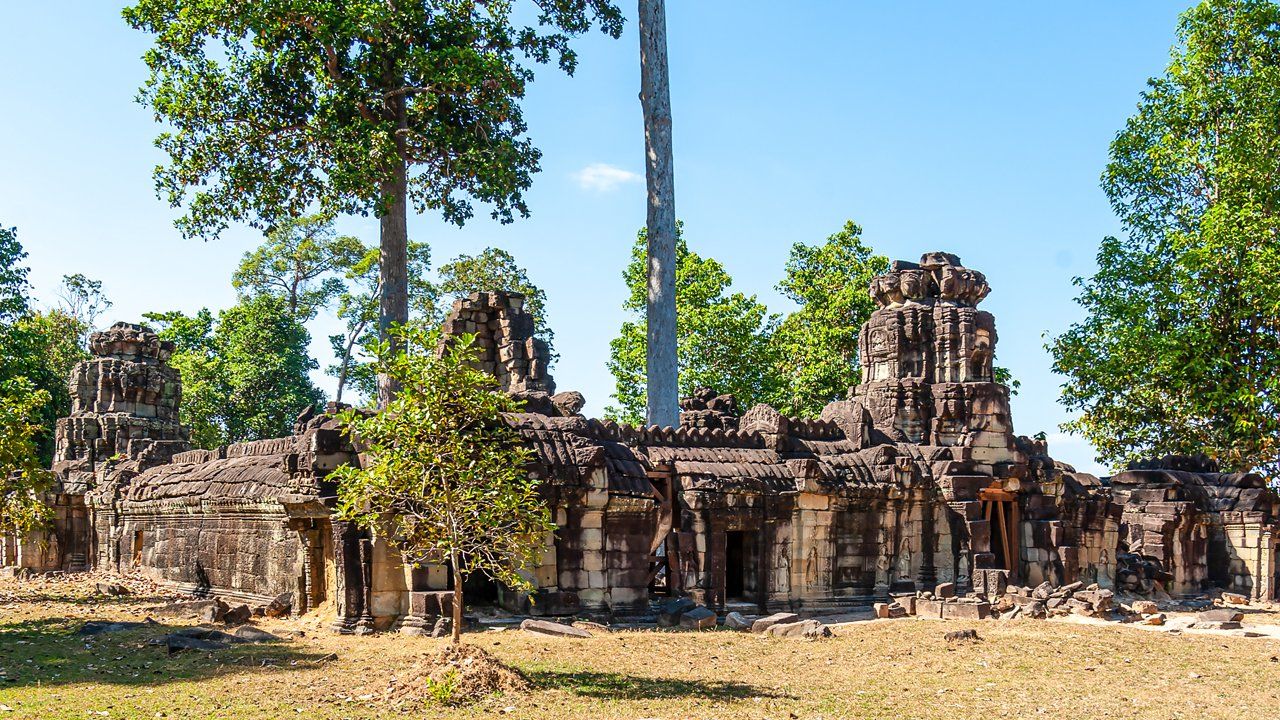 5. Prasat Chrung
There are four temples in Prasat Chrung! The Khmer word "Chrung" means "corner," and these structures are located at each of the ancient city of Angkor Thom's four corners, with Bayon Temple at its middle.
Since there are no paths leading to either of the buildings, the only way to see them is to walk or ride a bike over single trails. They are well-decorated and nearly unvisited, so it is well worth the effort. The one on the south-eastern side is the most maintained, so it's the one worth visiting.
Related post: 4 Reasons to Explore Siem Reap by Bike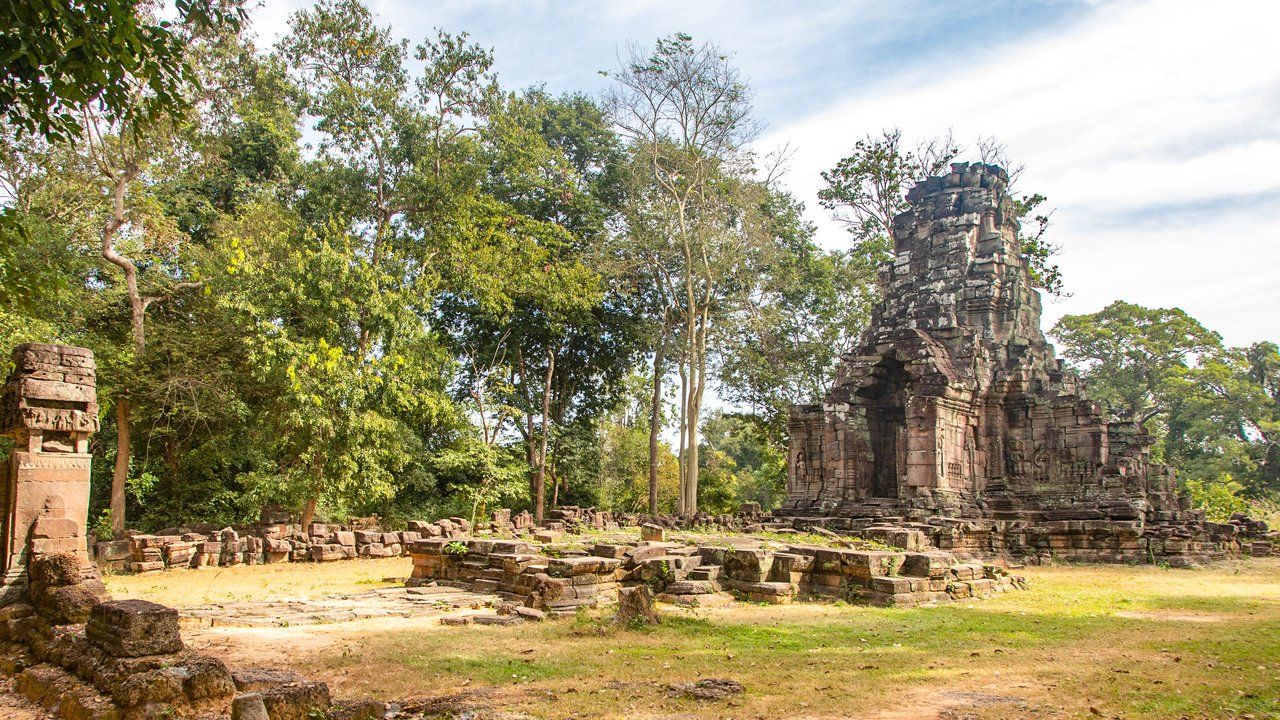 6. Ta Nei Temple
Ta Nei Temple is very close to the Angkor Archaeology Park, in reality, it is right next to the Angkor Zipline. However, it is about 1 km down a rugged, unpaved road, it does not attract many tourists because there are many other options nearby that are easier to reach.
The simple, Angkor-style construction of one of King Jayavarman VII's many buildings constructed in the late 12th century has some very lovely carvings and bas-reliefs around it. It may not be as beautiful as the larger temples, but it has the benefit of being close by peaceful and secret.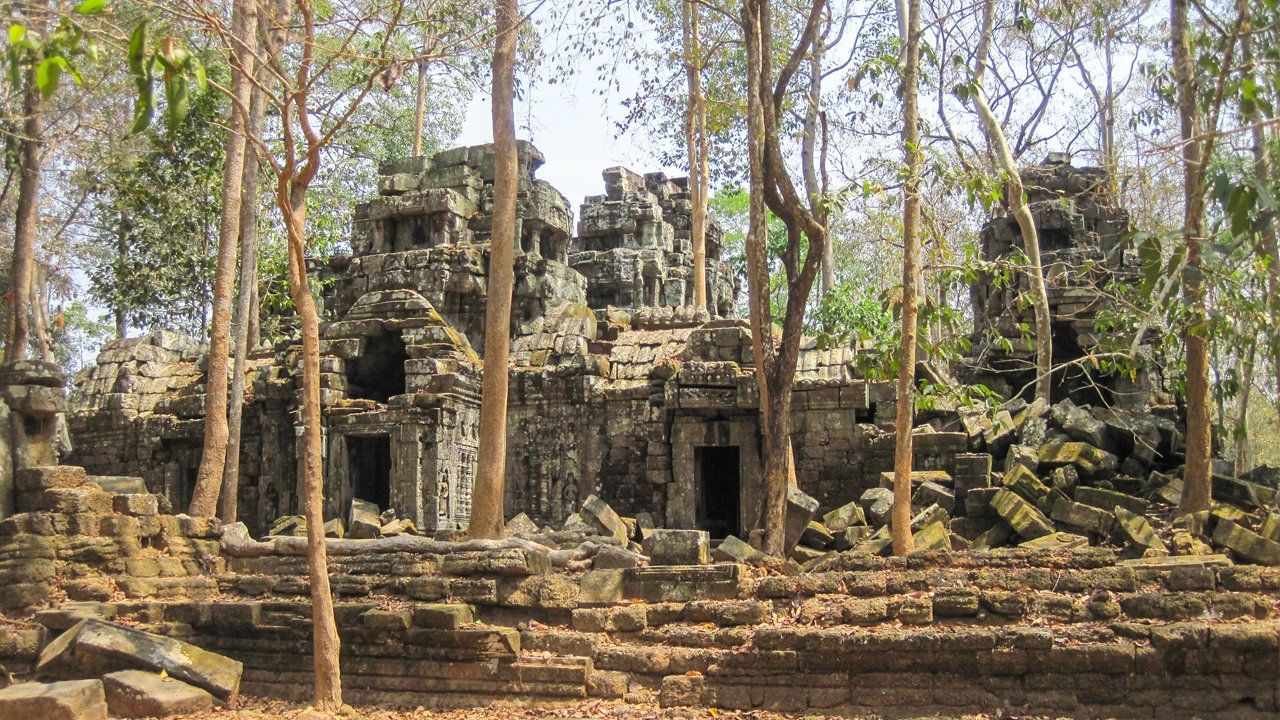 7. Banteay Srei Temple
Though it is often referred to as "Banteay Srei", the translation is the same in both cases: 'Citadel of the Women.' Because of the slightly pink color of the sandstone used to build the 10th-century temple, which contains beautiful delicate carvings dedicated to the Banteay-Hindu god Shiva, this relatively new nickname was assigned to it.
The building is well-preserved and displays visible signs of restoration and restoration, but since it is located so far away from the Angkor Wat site, it is still a relatively unknown destination that attracts even fewer tourists and it takes about 35 kilometers from the town.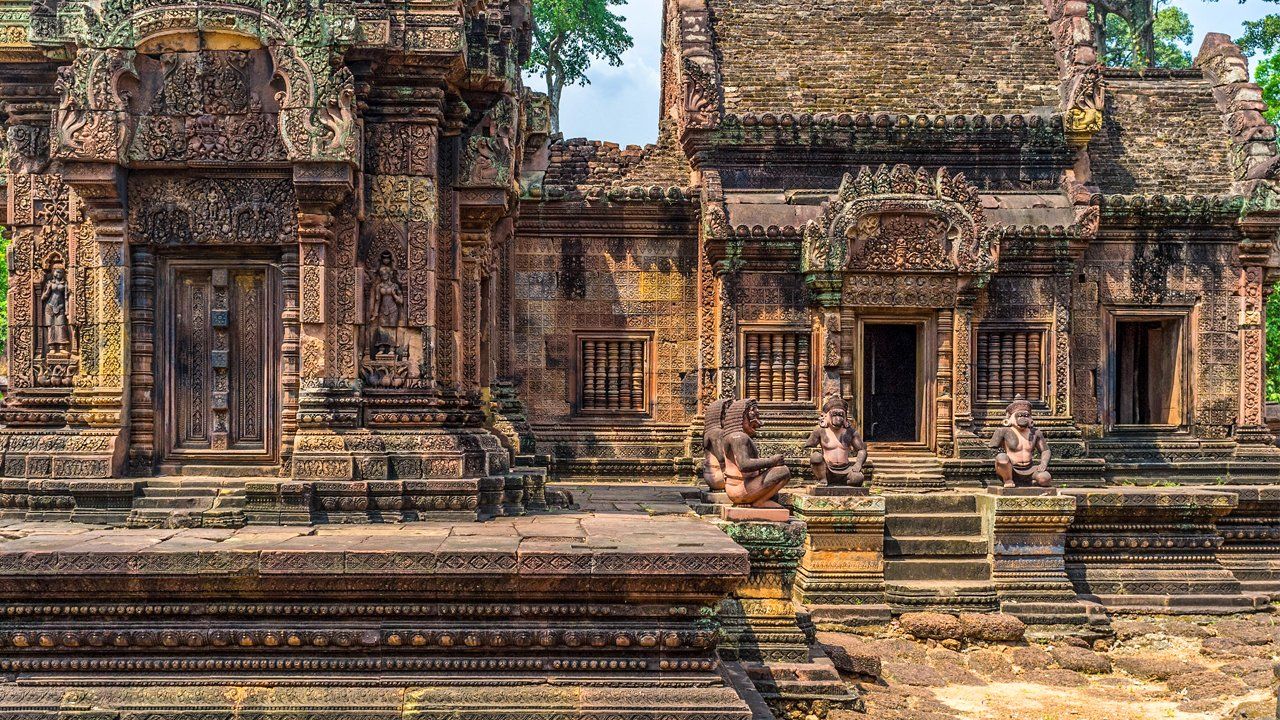 8. Prasat Beng Mealea
Beng Mealea is one of the largest temples outside of the Angkor Wat site, covering more than 1 square kilometer, the majority of which is overgrown by trees. Despite being constructed in the same style as Angkor Wat, this temple predates the bigger, more prominent building. It may have been a prototype model, according to some hypotheses.
Since it hasn't been restored, entry may be difficult, and you can need to crawl over ruined walls or climb through windows to fully discover it. However, since this is one of the more common hidden temples, there is a wooden walkway for those that are less physically involved. Beng Melea is approximately 57 kilometers from Siem Reap.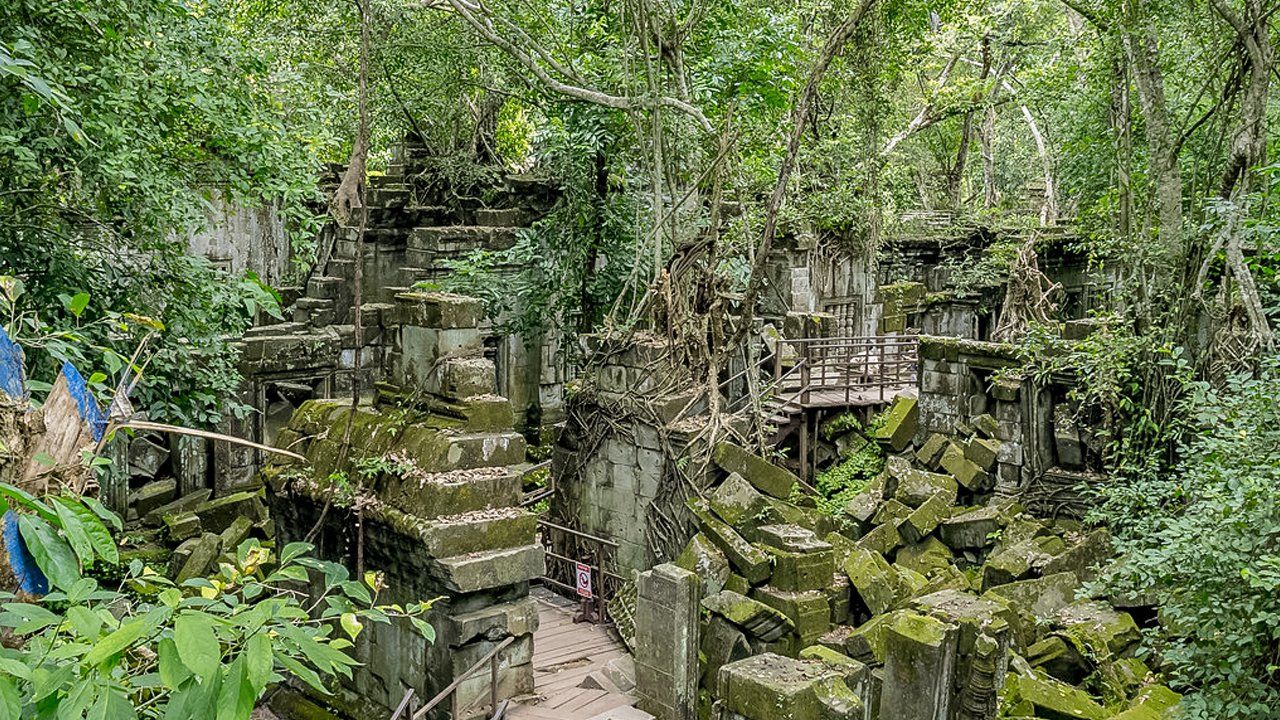 9. Phnom Krom
Phnom Krom is the name of a village situated about 12 kilometers south of Siem Reap, on the Tonle Sap River. Phnom Krom is primarily known for its sunset views and visits to the Chong Kneas floating village.
Related post: 4 Best Spots to Enjoy Sunset in Siem Reap & Angkor Archaeology Park
Phnom Krom temple, a Hindu shrine constructed in the 9th century by King Yasovarman I, is located at the top of the hill. Vishnu, Brahma, and Shiva were the three Hindu gods honored at the temple. During the reign of King Yasovarman I (889–910), other trilogies of mountain temples were founded, each with a similar architecture.
Read more Articles
No matter who you're looking to travel with, you can depend on our 2,500 trusted operations to make sure everything's taken care of