Cycling in Angkor Wat: Essential Tips to Explore Angkor Wat by Bike
There are several ways to get around Angkor Wat temple, but getting on a bicycle and cycling around the temple complexes is one of the best ways to explore the Angkor archaeology park. This is a great way to explore the temples and minimize your carbon footprint as you see some of the most beautiful places and escape from the tourist route.
In this article, I'll provide you with some helpful tips that will allow you to enjoy the full scope of your trip to Angkor Wat by bike.
How to Get to Angkor Wat from Siem Reap
Cycling from Siem Reap to Angkor Wat is easy. The distance from the city center to Angkor Wat is about 7 kilometers. If you ride your bike from your accommodation to Charles De Gaulle Street and head north, you'll be right in the Angkor complex. Cycling to Angkor Wat can somehow be a great experience because it takes you through many of Siem Reap's neighborhoods, where you'll see a lot of trees that will provide cover and shade once you get to the temple area.
Do you need a guide for Angkor Wat?
If this is your first time traveling to Cambodia, I think having a guided bike tour can make the most of your trip. Local guides can help you understand a lot of insider information that you have to do a lot of research to figure out and some fascinating insights into the Angkor temples. I'm pretty sure a good guide can add a lot to your visit. A self-guided tour, on the other hand, is perfect if you're on a budget or you like to explore at your own pace.
Where to buy your ticket?
Previously, you could buy the tickets at the main entrance on Charles De Gaulle Road. However, they are no longer available there. The new ticket office is located on Street 60, near the intersection of Apsara Road, at the Angkor Wat Visitors Center.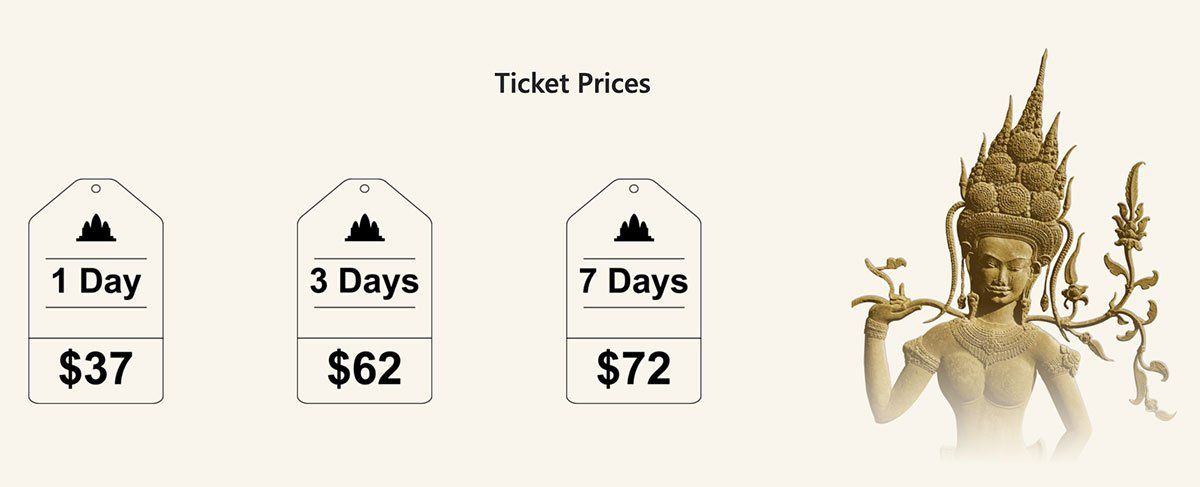 Conveniently, credit cards are accepted. The easiest way to get your tickets is to hire a tuk-tuk to take you to the office. It is open every day from 4:30 a.m. to 5:30 p.m. Here it comes to choosing which tickets to purchase before visiting the temples. You can buy a ticket for one day ($37), three days ($62), or seven days in a month ($72). I think that the 7-day pass is the best deal, as it is just $10 more than the 3-day pass! In addition, the 7-day passes allow you to visit the Angkor park seven days a month. Therefore, you can take a few days off in between temple visits. You won't get temple burnout this way. Always keep in mind that your tickets will be checked by entrance monitors several times throughout the day.
What to Wear and Bring
In Cambodia, temples are sacred sites. As a result, wearing revealing clothing that exposes your knees and shoulders is prohibited when visiting any temple. When cycling around the temples, it's also convenient to bring a small backpack to carry the essentials stuff, such as maps, a smartphone with a navigation app, a reusable bottle of water, sunscreen, sunglasses, camera, etc.
If you visit Cambodia between May and October, bring a rain jacket and a plastic bag for your electronic device in case you get caught out. More importantly, bring a bike lock and a helmet. Last but not least, remember that Cambodia is hot and sunny, which means you will be spending a lot of time outside, which means you will need to protect your skin, and don't forget to keep yourself hydrated (Clean restrooms are available throughout the temple complexes).
Related post: Best Time to Visit Cambodia: What you Need to Know Before Visiting
Bicycle Parking at Angkor Wat Temple
Your bikes are simple and easy to park while cycling around Angkor Wat. You can park your bike near the motorcycle parking area. More importantly, Angkor security guards are there on a regular basis. As a result, this is a nice spot to leave your bike. If you see a tree or fence, secure it with a lock, and you're ready to go.
Tips to Escape from the Busy Route at Angkor Park
When the traffic at Angkor Wat gets busy, it might be difficult to get around on a bicycle. But don't worry; with the right attitude of remaining calm, as well as a thorough awareness of the informal rules of the road, you'll be OK to go.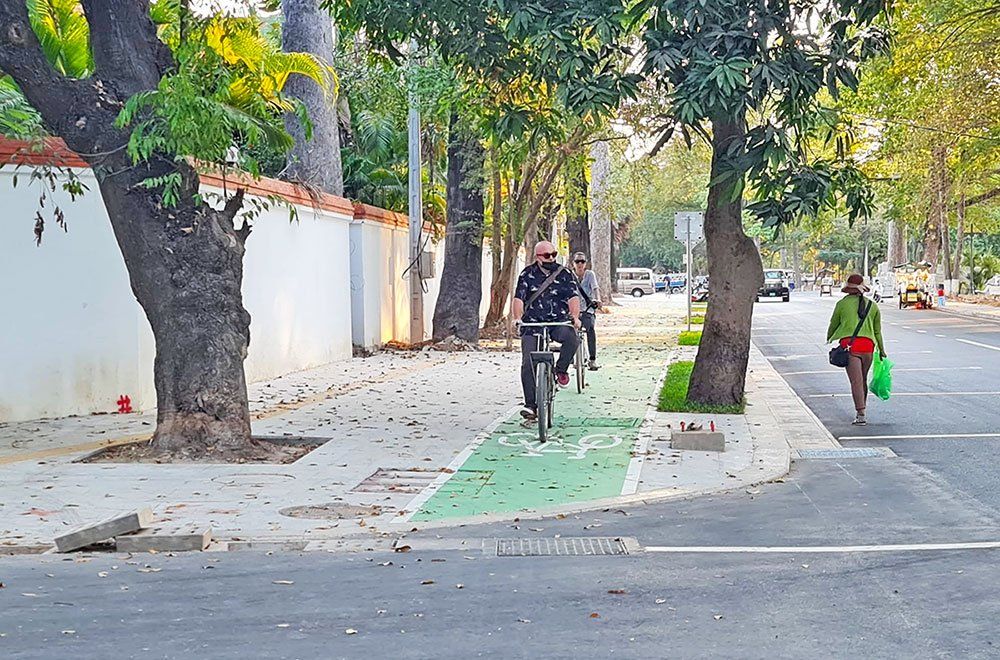 Fortunately, new biking trails have been developed for cyclists. The bicycle track is one of the Apsara National Authority's most recent projects. It runs 23 kilometers through the Angkor Archaeological Park and is meant to provide safety for cyclists and reduce traffic congestion on main roads.
All in all, riding a bicycle through Angkor Wat is a once-in-a-lifetime experience that you should not miss, as it allows you to explore things from a different perspective. You'll be able to see things that you wouldn't be able to see in a car or tuk-tuk.
Related post: 4 Reasons to Explore Siem Reap by Bike
Read more Articles
No matter who you're looking to travel with, you can depend on our 2,500 trusted operations to make sure everything's taken care of