8 Most Beautiful Places to Visit in Cambodia
If you're traveling to Cambodia, I'm sure that you're looking for the best information on the most beautiful places to visit. Without a doubt, Angkor Wat Temple is one of Cambodia's most beautiful attractions. In a nutshell, Angkor Wat is just the beginning of what you can expect to see when visiting Cambodia. However, there are many more wonders waiting for you in this country, like Phnom Penh, the jungles of Cardamon Mountain, and even some beautiful beaches awaiting your discovery.
In this article, I'll guide you to the 8 most beautiful places to visit in Cambodia.
1. Angkor Wat at Sunrise
Angkor Wat sunrise is a must-see if you make a trip to Cambodia. One of the best spots to take in this breathtaking sunrise is the reflection ponds in front of the main temple. You can take the prettiest photos in front of the pond. Bear in mind that you won't be there alone, so it will be a bit complicated to capture this iconic sunrise. But don't get too worked up over it. I have some wonderful news to share with you. So, after wandering around the temple, you can always come back to the pond. You will see the sunrise over the temple; you have the whole place to yourself. I think it's okay if you can't take the perfect shot. Take your time with the sunrise so you can fully appreciate the intricacies and beauty that are right in front of you.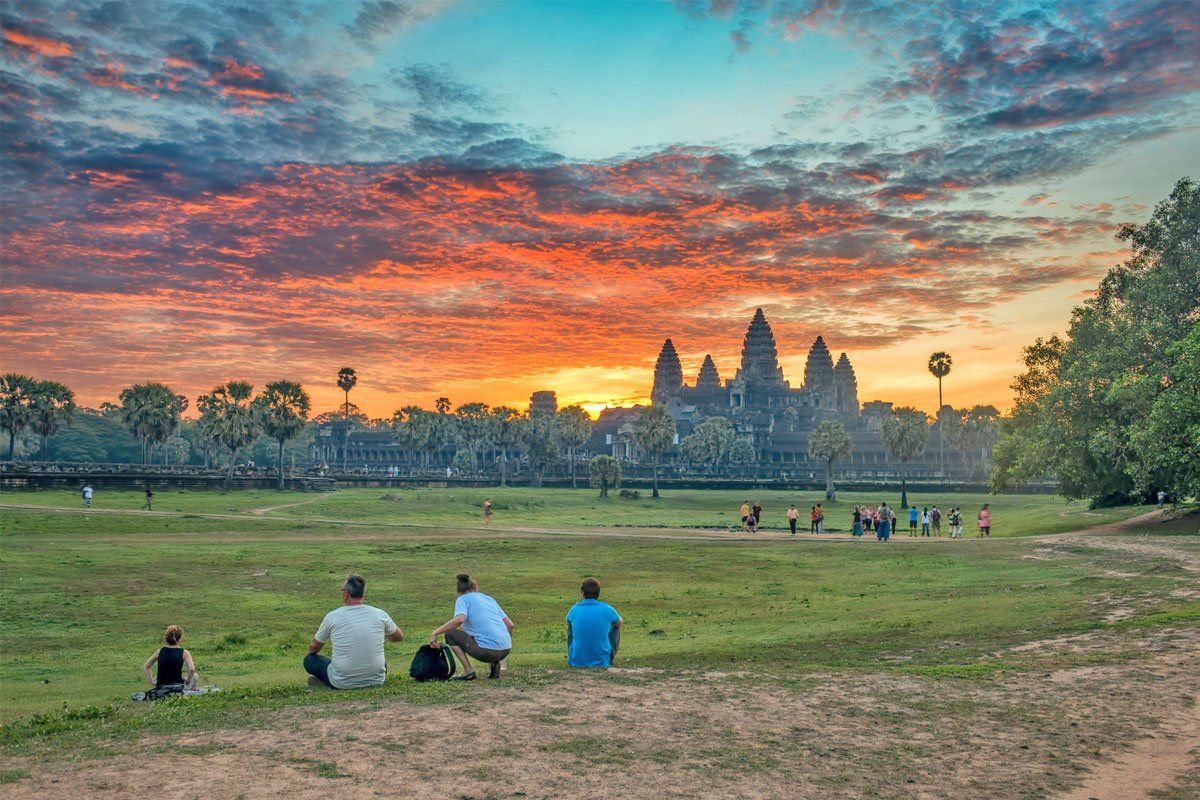 The best time to see the sunrise is in the dry season, which is from early December until March. The weather is pleasant during these months, with great temperatures and the least amount of rainfall.
Related post: Tips to See Angkor Wat Sunrise: The Ultimate Guide
2. Phnom Penh
Phnom Penh is known as the capital city of Cambodia; it's vast and quite elegant. The main attraction in Phnom Penh is the Royal Palace. The Royal Palace is Phnom Penh's biggest attraction. The palace, which was built in the 19th century, is a complex of buildings that serves as the King of Cambodia's residence.
In addition, you can also visit Tuol Sleng Prison, which is a memorial to the Cambodian Genocide, if you want to understand more about the country's past. Tuol Sleng Prison, better known as S-21 was used to imprison and torture political prisoners during the Khmer Rouge between 1975 and 1979. It is now a museum dedicated to educating people about the Khmer Rouge's misdeeds. A visit to the Genocide museum is sometimes combined with a visit to the Killing Fields, where at least 20,000 individuals were cruelly killed and buried in deep burial sites at the Killing Fields. The Killing Fields is located 15 kilometers outside of Phnom Penh. When you visit both Toul Sleng Prison and the Killing Fields, audio guides tell you about the history of the Khmer Rouge and the Killing Fields, while you walk along the grounds. Last but not least, the Sunset Cruise is not to be missed. I'll never miss the opportunity to see this whenever I'm in Phnom Penh. It's a place where I can smell the fresh air, relax, and also enjoy the surrounding views, like the Royal Palace and the Cambodian capital itself. Moreover, it's also a terrific way to learn about the Mekong, Tonle Sap, and Four Faces Rivers, as well as the lives of those who live along their banks, and to watch the iconic sunset over Phnom Penh.
Related post: Phnom Penh Travel Guide: What you need to know before you go
3. Koh Rong
In the southwest of Cambodia, you can find several beautiful tropical islands. Perhaps the most famous and frequently visited is Koh Rong. This small island paradise is ideal if you want to escape the bustle of big Asian cities and are looking for idyllic beaches.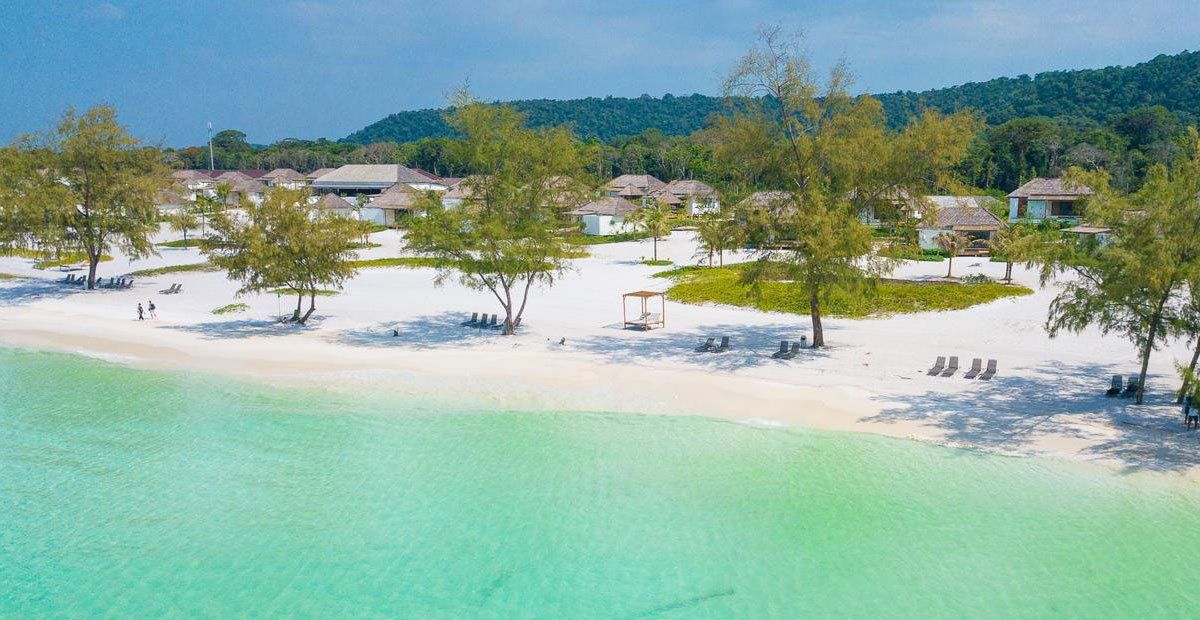 In Koh Rong, the beaches are white, the sea is crystal turquoise, the people are friendly, and time passes slowly. The surrounding coral reefs of Koh Rong are ideal for snorkeling throughout the day. The beaches are wonderful for relaxing, while the deep jungle is ideal for hiking.
Related post: Koh Rong Cambodia Travel Guide
4. Kampot and Kep
Visiting the historic towns of Kampot and Kep during a trip to Cambodia will immerse you in Khmer history and culture. Kampot and Kep are slowly gaining popularity among local and international visitors due to their magnificent scenery. Kampot and Kep are not far apart. Depending on your mode of transportation, they're roughly 30–45 minutes apart.
With great rivers for kayaking and stunning mountains in the Bokor Mountains, Kampot is an ideal location for nature and adventure lovers. Furthermore, Kampot is famous for producing the world-famous Kampot Pepper. This pepper is grown on hundreds of organic farms in the foothills of the mountains in the area, and you can learn more about the process by visiting local plantations. They provide a free guided tour through the pepper growing process, along with a sample of each species of pepper.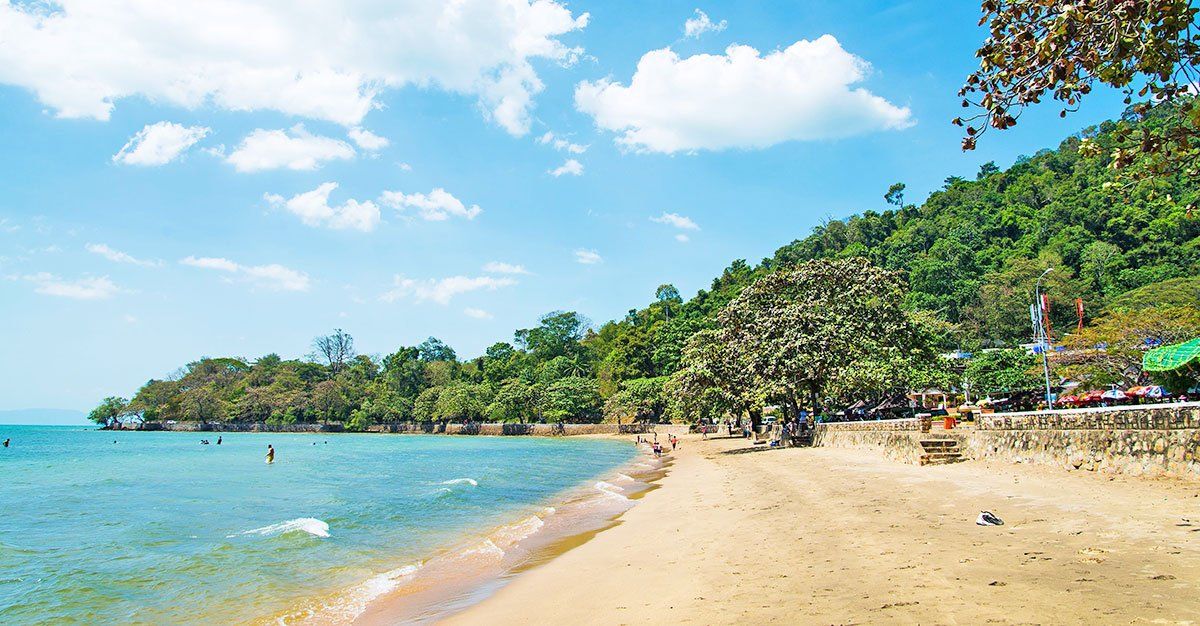 Kep is a calm and lovely coastal city; it's quiet and peaceful, and it has a fantastic spot to chill for a few days and appreciate life at a slower pace. There are several beaches in Kep where you can relax. I remember waking up in Kep and then wandering around the beach, and I saw no one but me, with the sound of ocean waves and birds singing. It was peaceful to walk around early in the morning. That moment always has a special place in my heart; it always soothes my soul whenever I think of it. In addition, one of the main reasons for visiting Kep is to see the Kep Crab Market, which is located near the seaside as you enter the town.
Relate post: Things to Do in Kampot, Cambodia
5. Cardamom Mountains
The Cardamom Mountains are Southeast Asia's largest surviving rainforest, and they are home to endangered species such as the Asian elephant, clouded leopard, pangolin, sun bear, Siamese crocodile, gibbon, and a variety of insects and reptiles. In addition, ethnic minority groups call it home. Cardamom Mountain offers a variety of activities, including jungle trekking, kayaking, mountain biking, and wildlife exploration. If you want to get the most out of your trip and live like a local, stay in a homestay and immerse yourself in rural Cambodian life.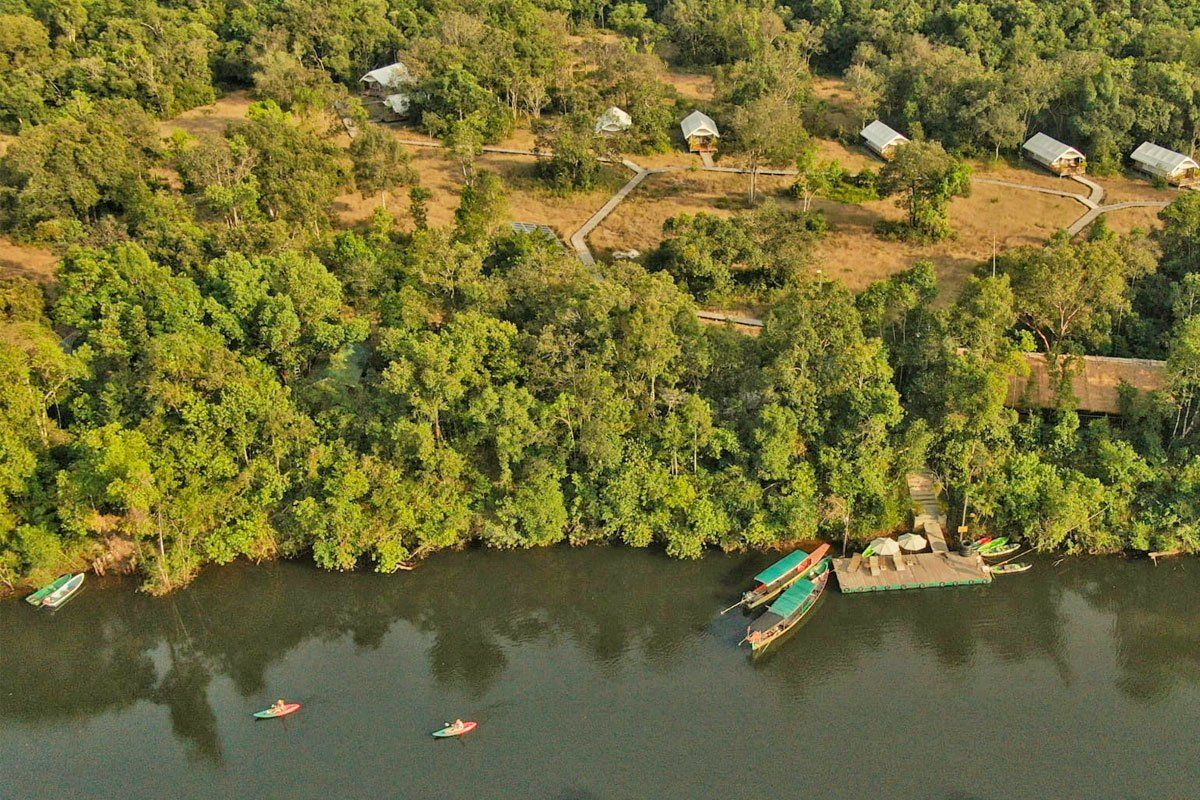 If you want to experience the Cardamom Mountains in elegance, the Cardamom Tented Camp is the place to go. Cardamom Tented Camp is a three-way initiative between Minor Group, YAANA Ventures, and Wildlife Alliance to ensure the land and its biodiversity do not fall into the hands of loggers, poachers, or sand dredging operations. Either through a stay at the Cardamom Tented Camp or homestays, you can help and support both the locals and the organization. More importantly, you can experience the beauty of this tropical jungle. There is a saying, "Your stay keeps the forest standing."
6. Kirirom National Park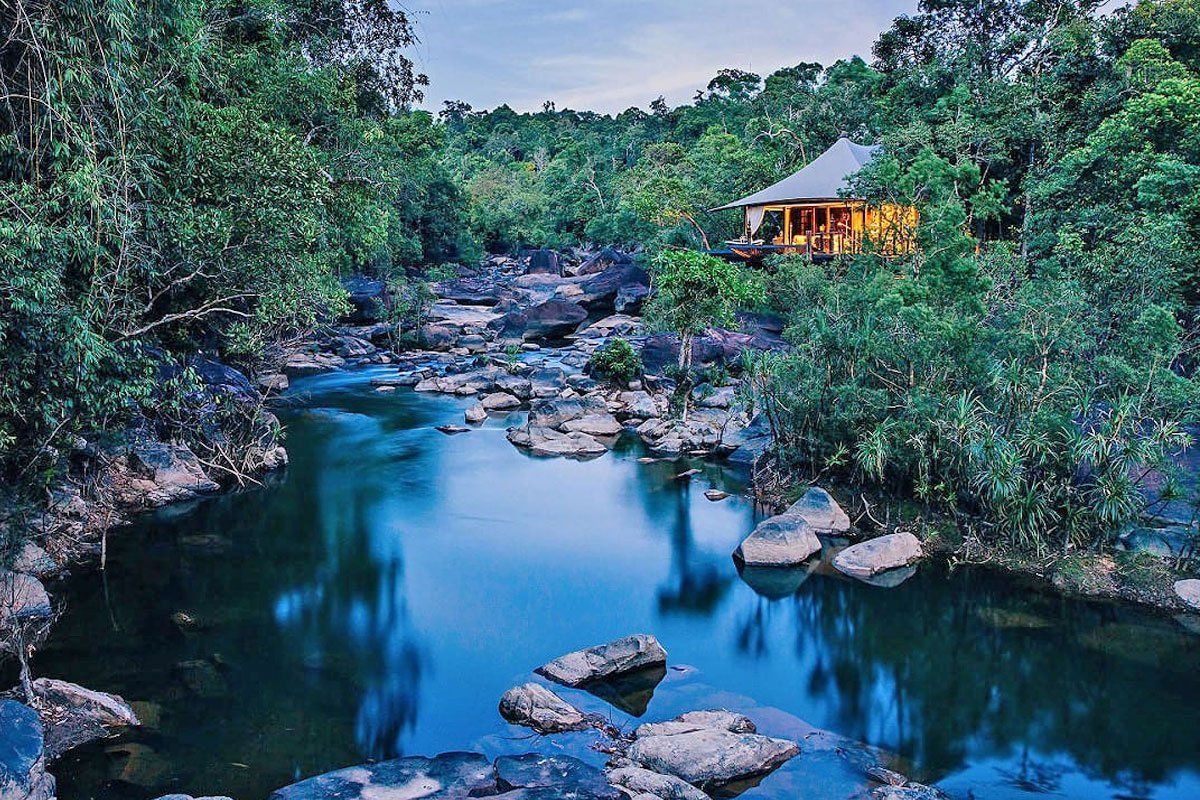 If you wish to escape from the city, Kirirom could be a perfect choice. "Mountain of Joy" is the meaning of the name "Kirirom." The King of Cambodia, King Monivong, named it in the 1930s. Kirirom is located in the southern part of Cambodia in the Cardamom mountain range. If you take National Highway 4 from Phnom Penh, it will take you around 112 kilometers. The park offers wonderful cold weather as it is situated above 700 meters above sea level. Kirirom is well-preserved, with several waterfalls, pulsating orchids, cliffs, wooded hills, Buddhist shrines, breathtaking views of the Cardamom Mountains, and pine trees with the freshest air. Kirirom can be your weekend escape; it is a good place where you can recharge yourself. Don't forget to drop by after your trip from Phnom Penh.
7. Mondulkiri
Mondulkiri is located in Cambodia's eastern region. It is well-known for its wooded hills and tremendous waterfalls. Mondulkiri's capital, Sen Monirom, is around 375 kilometers from Phnom Penh. In Mondulkiri, ten tribal minorities represent about 80% of the population. Khmer, Chinese, and Muslims represent approximately 20%. The majority of the population grows rice, fruit trees, and various vegetables. Others grow coffee, strawberries, rubber, and cashew nuts. Visiting waterfalls and seeing elephants are two of the most popular things you can do in Mondulkiri. The waterfalls include Bousra Waterfall, Senmonorom Waterfall, and Romnea Waterfall.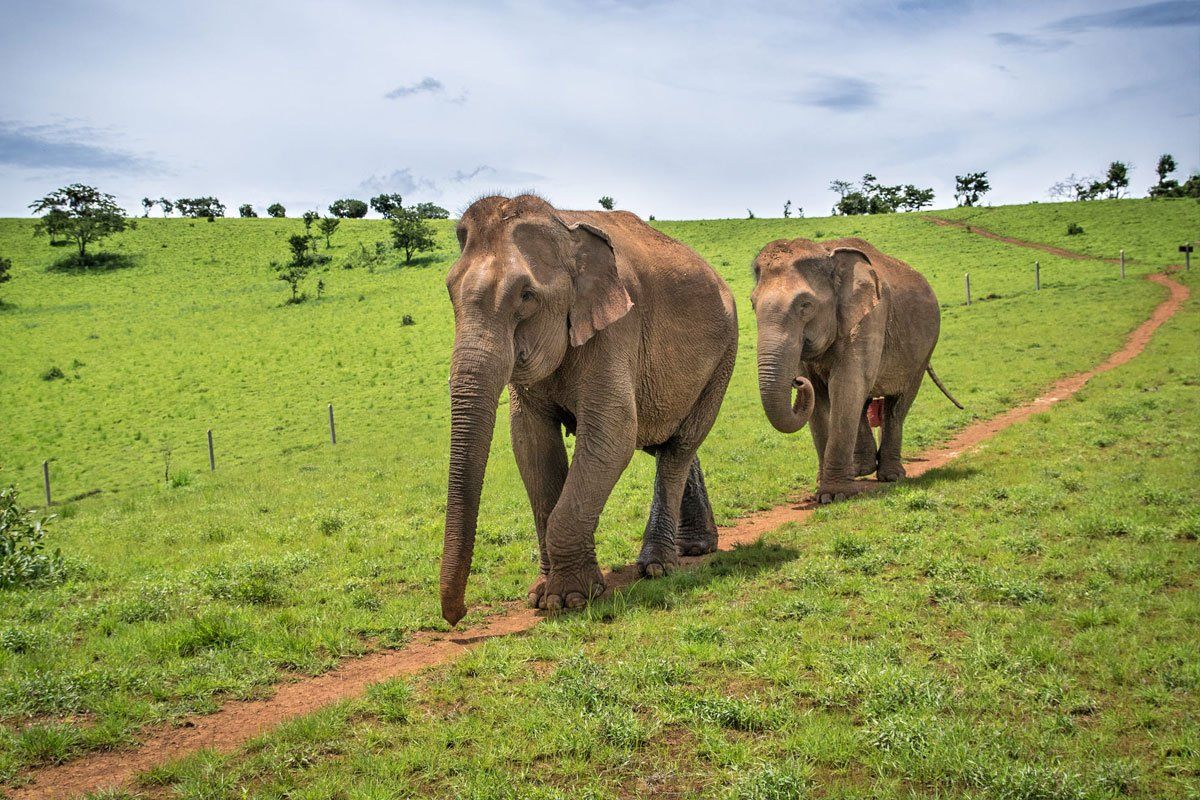 Other activities in Mondulkiri include visiting a coffee farm and enjoying the scenery of the mountains. Writing this brings back all the memories of my time in Mondulkiri. I went on my last trip to Mondulkiri in 2020. My friends and I decided to spend an evening camping and fall in love with the stars at the top of the hill. It was such a great experience to treasure.
Another place where local people often go is Andong Sne. Andong Sne is known as "Love Wells." It's just 20 km from Sen Monorom town. There is no well, by the way. I warn you ahead of time in case you are dissatisfied. It's simply just a cliff from the peak of Andong Sne Mountain, from where you can see the magnificent S road. And I believe the name "Love" comes from the fact that when you reach the peak, you can't help but fall in love with this beautiful mountain. When you climb to the top of the mountain, take pictures on the S road, relax, and enjoy the chilly, mild weather as well as the breathtaking views of the surrounding area.
8. Ratanakiri
Ratanakiri, in northern Cambodia, is a fantastic destination for adventure seekers. Several tour companies provide overnight or multi-day jungle tours for adventurous travelers who want to get up close and personal with nature.
This remote region, which is rarely visited, is rich in natural beauty, with tumbling waterfalls and rivers winding through lush forests. Ratanakiri was the home of the infamous Khmer Rouge in the 1960s, and it was here that Pol Pot spent much of his time.
Read more Articles
No matter who you're looking to travel with, you can depend on our 2,500 trusted operations to make sure everything's taken care of