Cambodia Bamboo Train: Fun Thing to do in Battambang
The Norry or bamboo train is located in Battambang, Kingdom of Cambodia. This transportation still can be found in the country, although the unstoppable progress of the railroad is doomed to extinction in a few years.
It basically consists of a small motor that drives a four-wheel axle along the train tracks. It is called Bamboo Train because its surface is made of bamboo. A simple and practical device that served as the transport of goods and people during the time of the Khmer Rouge.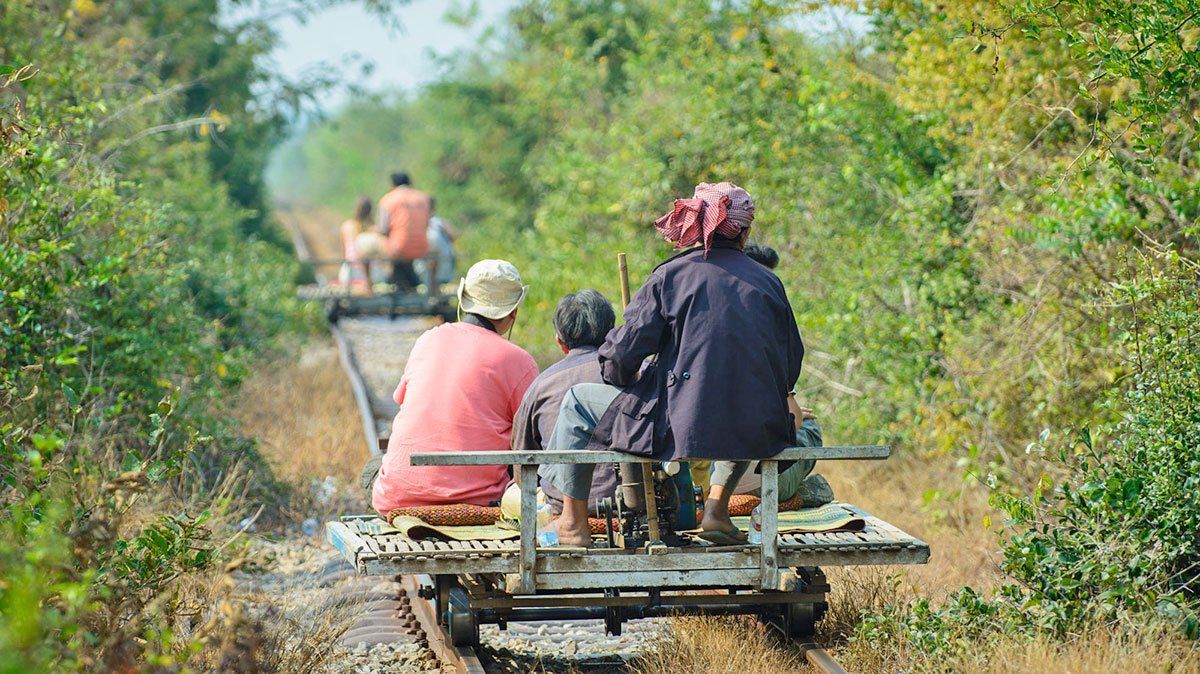 Today It has become a tourist attraction in Battambang which can still be enjoyed on some stretches of road and paying a small price for it. Riding on the Bamboo Train is relatively safe since it does not reach high speeds, and the walk can be a fun way to get to know that rural Cambodia that is the essence of the country.
Related post: Kep and Kampot Travel: Cambodia's Last Colonial Cities
This is a great way to get around the roads that were abandoned after the colonial era. The roads have always left a lot to be desired in terms of connections and infrastructure. In fact, if its existence is being threatened, it is due to the unstoppable advance of the railway that the Cambodian authorities have been promoting since 2009. Especially in the area where the Norry is most present, which is the one that includes from Sihanoukville to Poipet, on the border with Thailand.
A curious fact during the journey, there is a Bamboo Train with another that goes in the opposite direction, both drivers agree to take the train that does not have priority on the track, that the other advance and get back on the rails to the one that was left out without a further problem. To all who travel to Cambodia, we recommend that you do not hesitate to get on the bamboo train if you have the opportunity since in a few years it will be only a memory of the past of this beautiful country.
The journey costs $5 and includes breathtaking landscapes as well as the opportunity to tour around Battambang countryside and its surroundings.
Read more Articles
No matter who you're looking to travel with, you can depend on our 2,500 trusted operations to make sure everything's taken care of