Tips to See Angkor Wat Sunrise: The Ultimate Guide
Angkor Wat sunrise is on many bucket lists. I bet you will be speechless when you experience this breathtaking moment. Imagine having a cup of hot tea or coffee, sitting with your loved ones, and then the sun appears to rise in front of you gently. Wow, this is so cool, don't you agree? This article will gradually walk you through some useful tips for experiencing the breathtaking sunrise at Angkor Wat.
Purchase Tickets in Advance
If you don't want things to get complicated, I highly recommend you buy the ticket a day or two ahead of time, since it might benefit you a lot. For instance, you won't rush yourself out at the very last minute. As a result, you can manage or plan things gently at your own pace. Buying tickets in advance will also save you the headache of waking up even earlier. That way, you won't be concerned about making it on time.
Angkor Park opens from 5 am to 7 pm daily, and the ticket office opens from 5 am until 5:30 pm. Angkor Wat tickets are $37 for one day, $62 for three days, and $72 for a week. In addition, you can buy online tickets and pay by card. To purchase the tickets, you need to go to the office in downtown Siem Reap.
Today, you can purchase an Angkor temple pass online, eliminating the need to wait in long lines to get your ticket. This allows you to make the most of your Angkor Wat sunrise experience, giving you more time to explore and enjoy the stunning sights and sounds without having to worry about being late.
Click here to get your ticket today >>
Just a friendly reminder: always keep your ticket safe with you at all times, because you'll need to show it at several checkpoints throughout your trip. Also, please be extremely cautious with your ticket; remember that if you lose it, you'll have to purchase a replacement.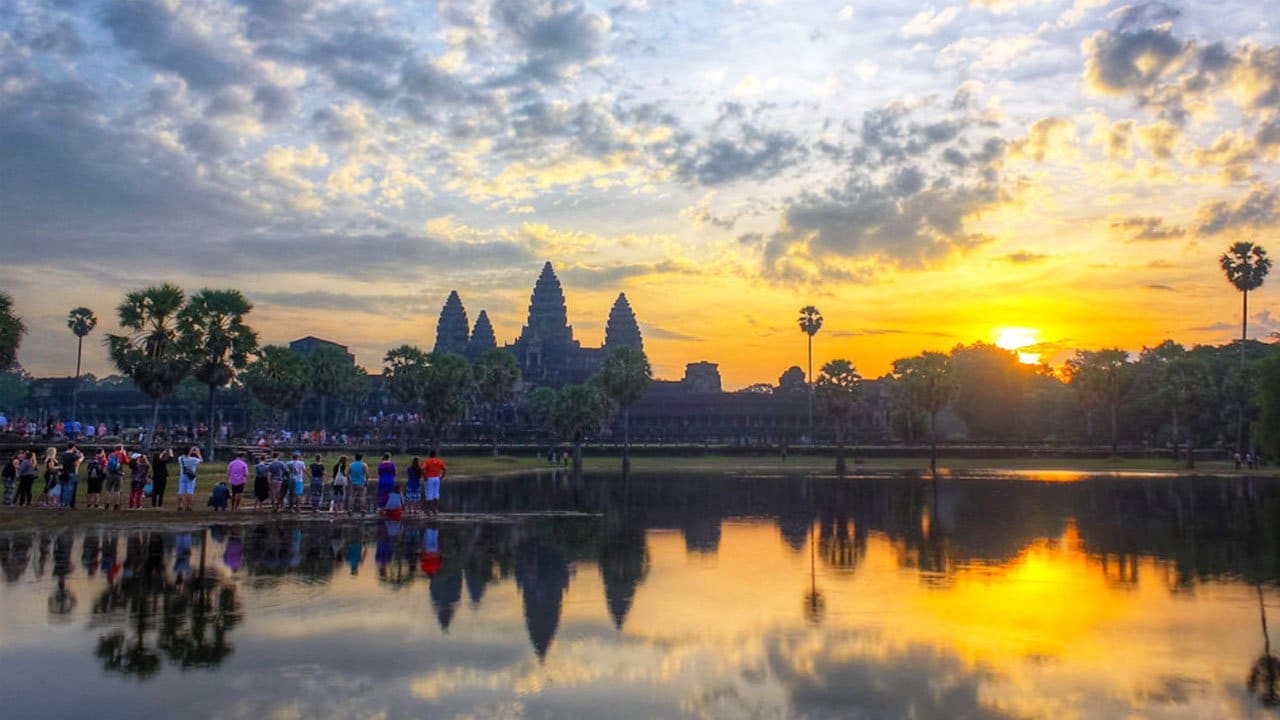 What is the best time to visit Angkor Wat?
In terms of weather, the best time to see the sunrise is in the dry season, which is from early December until March. The weather is pleasant and mild during these months, with good temperatures and the least amount of rainfall. However, because it is high season, it becomes the busiest period. As a result, if you want to avoid the crowds, I recommend seeing the sunrise on any day other than the weekend.
Here are some useful tips to see Angkor Wat Sunrise:
You have to get to the temple early. I mentioned earlier that the Angkor Wat temple opens at 5 am, so it's a good idea to leave your hotel at 4:45 am or earlier. An early start ensures you have a nice spot to watch and take photos of the Angkor sunrise. In addition, even if the sun has not yet risen, you will be able to photograph Angkor Wat without the crowds blocking your view.
Isn't it nice to have everything you need ready to go as soon as your alarm clock goes off? If you don't want your mood to be shattered, pack everything you need before seeing the sunrise. You can pack all of the items you'll need for the day, such as sunscreen, cameras, a bottle of water, your entrance tickets, etc. That way, when tomorrow comes, you'll be able to jump out of bed, throw on those clothes, grab your bag, and then be ready to go bam!
Wearing revealing clothing that exposes your knees and shoulders is prohibited. Keep in mind that this is a historic religious structure. At all times, your shoulders and knees must be covered. Respect the culture by dressing accordingly.
You should either bring a breakfast box that you can prepare yourself, or ask your hotel if they can prepare it for you. You can also get breakfast at Angkor Park. The local restaurants are open early, so you can have a quick breakfast before visiting other temples.
Once you've seen the sunrise, don't forget to explore the temple while the temperatures are still cool and low. Angkor Wat is huge and beautiful, so it is nice to wander around. You can experience other parts of the temple.
After all, I believe that knowing what time the sun will rise is the most important tip for seeing the sunrise. Make sure you check the weather forecast ahead of time to ensure a successful Angkor sunrise. You can go to the Google machine and type in, "What time is the sunrise at Angkor Wat tomorrow?" Any day can be typed in as your plan. As a result, the sunrise for the following day will appear.
Best Angkor Wat Sunrise Spots
If you want to capture or experience a spectacular sunrise at Angkor Wat, then there is a spot for you. The reflecting pool in front of the main temple is where you'll find it. When you reach there, try to position yourself behind the reflection pool. As expected, the colors of the sky will appear mirrored in the water as the sun rises. Then you can capture the most iconic sight on camera or simply be in the moment, softly breathing in and out. After you've taken as many shots as you need in one location, wander around and shoot pictures from different perspectives to obtain a different viewpoint or vibe.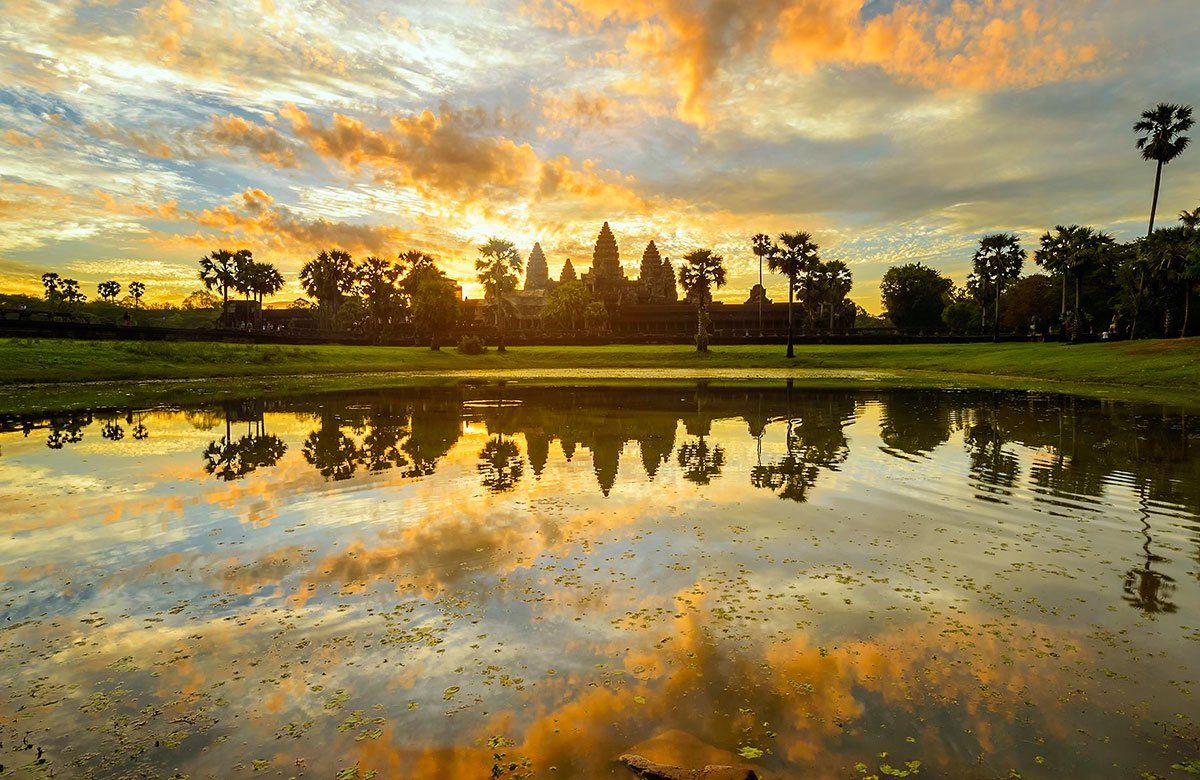 Personally, I enjoy the reflection in the pond since it is so gorgeous. You know, it's worth getting up early. Oh right, I almost forgot to remind you of this. Make sure to check your smartphone's storage or camera's memory card to see if it has enough space. Last but not least, remember that you are here to enjoy the experience. You are not here to snap a bunch of photos. Therefore, don't forget to feel and enjoy the moments.
Related Post: Guide to Angkor Temples: Before you visit Angkor Wat, here's what you need to know
Visit Other Temples
After visiting Angkor Wat, I bet you must be a bit exhausted, so it's a good idea not to explore lots of temples in just a day. You can visit one or two more temples whose locations are not too far away from Angkor Wat. I recommend you visit Angkor Thom, Bayon Temple, and Ta Prohm Temple. Apart from Angkor Wat, it is one of the most historically significant sites. Then, if you've had enough, you can return to town for a city break.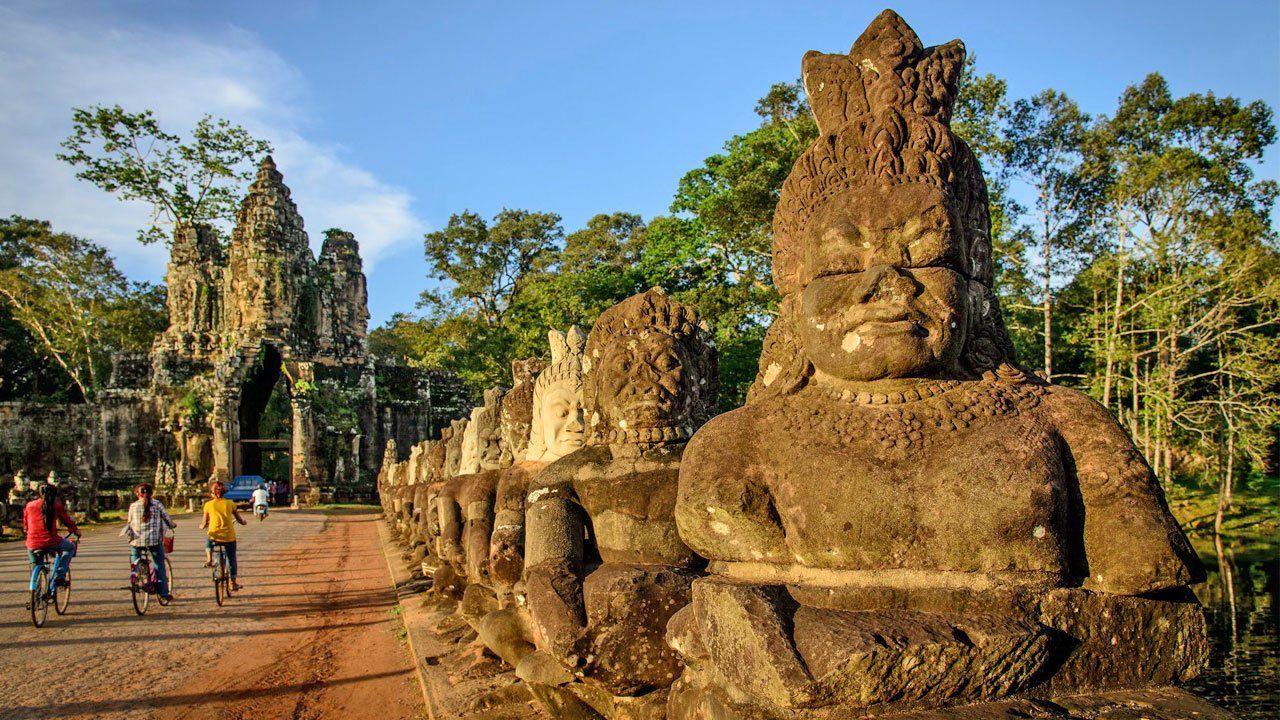 All in all, the sunrise at Angkor is breathtaking, and it will always be a pleasant and memorable experience. I am a local myself, and never get bored from getting up early to experience this iconic sunrise. On the other hand, if you cannot stand the crowds and get annoyed quickly, then Angkor Sunrise probably isn't for you. More importantly, keep in mind that the weather is somehow unpredictable; make sure you get a multi-day pass in case the first one doesn't work out.
Read more Articles
No matter who you're looking to travel with, you can depend on our 2,500 trusted operations to make sure everything's taken care of